Xenoestrogens found in wide array of consumer products
June 9, 2009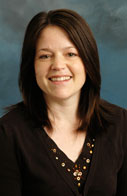 Tara Sabo-Attwood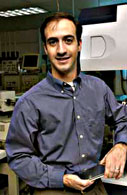 Lee Ferguson
Two USC scientists are seeking to better understand how certain chemicals called xenoestrogens react with human cells to contribute to lung and breast cancer.
Dr. Tara Sabo-Attwood, an assistant professor in the Arnold School's Department of Environmental Health Science, and Dr. Lee Ferguson, an assistant professor in the USC Department of Chemistry and Biochemistry, are co-principal investigators in the two-year study.
Their effort is supported by a $378,000 grant from the National Institute of Environmental Health Sciences. The NIEHS is paying for the study with money from the American Recovery and Reinvestment Act of 2009, the so-called Stimulus Package that President Obama signed into law in February.
Sabo-Attwood said xenoestrogens are considered a public health concern because of their capacity to interfere with the body's normal hormone functions– "something we call the endocrine disruption theory."
Xenoestrogens find their way into the environment through a wide array of consumer and industrial processes. They are found in plastic baby and water bottles, sports equipment, medical and dental devices, dental fillings and sealants, lenses, CDs and DVDs, and household electronics.
Ferguson and Sabo-Attwood are particularly interested in Bisphenol A (BPA), a well recognized xenoestrogen compound. Although it has been used in manufacturing for 50 years, recent studies have suggested its potential threat to public health, highlighting the need for future research.
The Centers for Disease Control and Prevention has found that 93 percent of Americans tested have BPA in their bodies, and children have higher levels than adults. These kinds of results have resulted in the compound being banned in some parts of the world.
Sabo-Attwood said the USC study will be able to examine the impact of xenoestrogens on lung and breast tissue because the chemicals produce distinctive genetic changes when they bind with receptors in lung or breast cells.
By understanding these changes, the USC scientists say health practitioners can develop better risk assessments and more effective therapeutic strategies for endocrine-related diseases.