Arnold School classes inspired public health initiative for Waverly children
May 4, 2010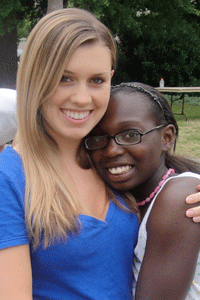 Kelly Scriven and a student who
has been part of the Waverly
Public Health Initiative

A documentary by a University of South Carolina student is shining the spotlight on public health education for children in the Waverly Community in Columbia, S.C.
The film showcases a program developed by Kelly Scriven and Jessica Steele, seniors at South Carolina Honors College at USC, in collaboration with Sydney Daigle, a senior anthropology and women's study major from Greenville, S.C.
The outreach program, inspired by classes that Scriven and Steele took at the Arnold School of Public Health, was designed to encourage healthy behaviors among children living in the historic neighborhood.
Scriven of Monmouth, N.J., and Steele of Hilton Head Island, S.C., will graduate in May with the university's most rigorous academic degree, the Baccalaureus Artium et Scientiae degree. Students pursuing this highly selective degree program create a course of study customized to their future career goals. Scriven and Steele, who tailored their degree program to include public health studies, began the Waverly Public Health Initiative as an extension of a 2007 project for their class, "Introduction to Health Promotion, Education, and Behavior."
"Having both volunteered for over a year at the Waverly After-School Program in the lower Waverly community, an urban neighborhood in Columbia, we decided to tie our interests from class into our work at Waverly," Scriven said. "The documentary describes the Public Health Initiative from its beginnings to its more current stages."
In September 2007, the students conducted one-on-one surveys with the Waverly students to evaluate their ideas, opinions, and practices related to several health topics. The results of the surveys led them to focus their program on helping the children maintain proper nutrition and participate in regular exercise activities. They also conducted discussions and lessons at the after-school center. The lessons focused on areas of need as identified by the surveys, including drug and violence prevention, hand washing, and choosing healthy foods. The program also offered field trips and activities, including a healthy Halloween activity at Earth Fare, a local health food supermarket, as well as a spring health fair.

From fall 2008 to spring 2010, the Waverly Public Health Initiative continued.
"Fellow Waverly volunteers and I held lessons and discussions at the center, served daily healthy snacks, and engaged students in a regular exercise program called 'Fit and Fun Fridays,' " said Scriven, who is graduating with a 4.0 GPA and will attend Georgetown University's medical school in the fall.
The Honors College students held their second health fair at the center earlier this spring and broke ground on a new Waverly community garden, which will serve as a sustainable feature of the program for years to come, she said.
"I am optimistic that with this documentary as a resource, future Waverly volunteers will be able to continue the successful aspects of the Waverly Public Health Initiative and continue to promote positive health practices among Waverly students," Scriven said.
In the 1800s, the area on which the Waverly neighborhood is located was part of the landholdings of a prosperous merchant and farmer. By the early 20th century, the neighborhood had evolved into a community for black artisans, educators, professionals and social reformers and ultimately was annexed into the City of Columbia. In the latter part of the 20th century, the community's affluence declined. However, a new generation of Waverly leaders has brought renewed energy to the neighborhood, and they are well under way with new efforts to preserve the historic community.
Visit schc.sc.edu to view the documentary.