Posted 6/02/2008
Vincent was pioneer in efforts to prevent teen pregnancy
A memorial service for Dr. Murray Lee Vincent, distinguished professor emeritus at the USC Arnold School of Public Health, will be held Saturday, June 7 at 9 a.m. at Rutledge Chapel.
Visitation with the family will be at Dunbar Funeral Home on Devine St. from 7 to 9 p.m., Friday, June 6. Vincent, 69, died May 29 at his home in Columbia.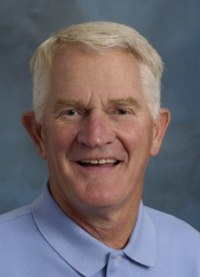 Dr. Murray Lee Vincent
Vincent retired from the faculty of the Department of Health, Promotion, Education, and Behavior, after a 32-year-career. Colleagues and friends remembered him as an inspiring leader and mentor who pioneered efforts in teen pregnancy prevention.
Born in Amboy, Indiana Vincent was the son of the late Laurel Estel and Helen Gordon Vincent.
He graduated from Earlham College with a bachelor's degree in health and physical education. He earned a master's in physical education and a doctorate in health and physical education from Temple University.
During his tenure at USC, Vincent was responsible for creating the first undergraduate health education degree in South Carolina as well as all of the health education master's and doctoral degrees at USC.
He was a founder of the S.C. Association for Health Education in 1972, serving as its president in 1981. He also received the SCAHE President's Award, Evaluation Contribution of the Year Award, SCAHPERD President's Award, Scholar Award and was the 2005 SCAAHE Researcher/Scholar of the Year.
He was an American Association of Health Education Scholar and was inducted into the Health Education Hall of Fame in 2002. Additionally, he received the Luella Klein Award from Emory University.
The success of his work in teen pregnancy prevention has been widely published. His signature effort started in Bamberg County in 1982 with a $50,000 federal grant, resulting in one the most successful school-community teen pregnancy prevention programs ever created.
Those efforts were still bearing fruit in 2006 when the program was cited in a front-page story in the Wall Street Journal.
In the early 1990s, Vincent worked to create the S.C. Council on Adolescent Pregnancy Prevention, now known as the S.C. Campaign to Prevent Teen Pregnancy. He also encouraged the creation of Community Adolescent Pregnancy Prevention programs in each county.
"I am so saddened by the loss of my dear friend Murray Vincent. He was one of the first faculty to welcome me to public health more than seventeen years ago -- with a firm handshake and a wide grin and a visit to my new office," said Arnold School Interim Dean Dr. Tom Chandler.
"Murray frequently encouraged and mentored me as I moved through the trials and tribulations of an academic career here at USC. His sense of humor was infectious, his positive outlook on life and all its possibilities was remarkable, and he was tireless in his willingness to help junior faculty like me learn the academic trade.
"Even in retirement, he stayed involved with new faculty in the school and made frequent visits to say hello and inquire about how well they were doing. Murray never met a stranger, and he never felt he was better than any of the least well-off among us," Chandler said.
Longtime friend and colleague Dr. Steven Blair said Vincent was a tireless advocate for youth sex education.
"He remained passionate about sex education issues and continued to influence thinking on the topic with letters to the editor and in other venues. I first met him in 1963 when we were grad students together at Indiana University. I came to USC in 1966, and he came the next year after finishing his doctorate at Temple University.
"We were very close to Murray, Virginia, Peter, and Christine. I had many enjoyable hours talking with, even debating, Murray on a variety of issues over the years. We played church league basketball and softball together, played a lot of golf, and ran our first marathon together in 1969," Blair recalled.
Former Arnold Dean Dr. Donna Richter remembered Vincent's personal generosity.
"There was a side of Murray that most people never saw," said Richter, who was Vincent's department chair near the end of his career.
"We had a lady on the custodial staff who was making a pathetic salary. She wanted to retire but she needed a few more years of service to be able to. Murray bought her the needed years of service out of his own pocket.
"That's a remarkable example of caring. Most people just would never think of it," Richter said.
Vincent authored or co-authored 12 published papers since his retirement in 1999. He provided consultative services for teen pregnancy prevention programs and regularly made presentations to organizations and groups on health education issues.
Surviving are his widow, Virginia Field Vincent, daughter and son-in-law, Christine Vincent Prioleau and William Fripp Prioleau Jr. of Columbia; son and daughter-in-law, Peter Harrison Vincent and Melody Kay Kyzer of Lake Waccamaw, N.C.; granddaughter, Virginia Maybank Prioleau, grandsons, William Fripp Prioleau III and River Anatoly Vincent; sister, Beverly Vincent Overman; brothers Wayne Estel Vincent and Wendell Henry Vincent.
The family suggests those who wish make memorials send them to the S.C. Campaign to Prevent Teen Pregnancy, 1331 Elmwood Ave., Columbia, S.C. 29201.