Physical fitness is key to a healthier America
December 6, 2011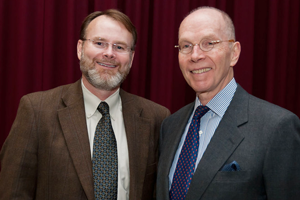 Dr. Tom Chandler, dean of the Arnold School of Public
Health, and Dr. Jeffrey Koplan of Emory University
Public health expert Dr. Jerry Koplan says the goal of a healthier America will come when the notion of physical activity becomes the social norm.
Koplan, director of the Emory Global Health Institute and vice president for global health at Emory University, expressed his hopes for the future well-being of the nation during the 2011 Winona B. Vernberg Distinguished Lecture.
"We have to get to the place where it's a social norm to want to walk somewhere, build a community with sidewalks and have kids be physically active in schools," Koplan said during his lecture, "Physical Activity over Time and Around the Globe."
Koplan said thinkers and leaders from the beginning of history have all promoted physical activity. Quoting Plato, Koplan noted that "lack of activity destroys the good condition of every human being, while movement and methodical physical exercise save it and preserve it.' "
Throughout the nation's history, U.S. presidents have set examples for physical activity, Koplan said. George Washington, who stood more than 6 feet tall, spent six hours each day on horseback. Theodore Roosevelt, who suffered through a sickly childhood, became a strapping young man, taking up competitive boxing and rowing as a student at Harvard. Jimmy Carter, Bill Clinton and George Bush were joggers, Ronald Reagan loved being photographed splitting firewood, and Barack Obama works out regularly.
While presidents may work their own physical activity program, the exercise battle is being lost in the nation's schools, neighborhoods and workplaces, he said.
Instead of schools being built in neighborhoods, Koplan said today they are being constructed on vacant land outside the suburbs where there is no way for students to walk or bicycle to and from home.
Koplan, who lives in Atlanta, cited school statistics in both Georgia and South Carolina where he said "there's not much activity going to and from school and not much going on at the school."
Few youngsters walk or bicycle to school these days and spend huge amounts of their leisure time in front of the televisions and computers or playing video games, he said.
Even the workplace has fewer jobs that require high levels of physical activity today. At the turn of the last century, it took a hearty person to be a stevedore or work for the railroads and the mining industry.
Those jobs have been overtaken by machines where workers manipulate loads with a control panel instead of a shovel. Cities and suburbs have given rise to what he describes as an "anti-pedestrian policy in the U.S."
Gated communities and other areas where walking is discouraged, if not forbidden, are evidence that the auto holds sway over walkers, he said.
Koplan's message is timely. The 2012 National Public Health Week theme is "A Healthier America Begins Today," which includes the call for active living and healthy eating. The observance will be April 2 – 8.
To learn more, visit http://www.nphw2012.org.