Celebratory luncheon will be followed by Vernberg Lecture, featuring the award-winning film Aphasia
October 4, 2010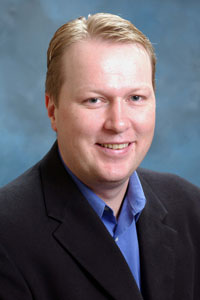 Arnold School researcher
Dr. Julius Fridriksson will
discuss his research
on strokes and aphasia as
part of the Vernberg
Lecture at 1 p.m.
Friday, Oct. 22, in the
Russell House Theatre.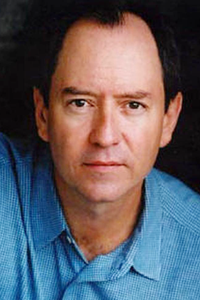 Actor Carl McIntyre, whose
struggle to regain his speech
after a devastating stroke is
chronicled in the film
Aphasia, will speak at the
Vernberg Lecture. The short
film has garnered attention
and awards at national
and international film festivals.

The Arnold School of Public Health at the University of South Carolina will celebrate its 35th anniversary Friday, Oct. 22, with a luncheon and the annual Vernberg Lecture.
The luncheon, which is open to faculty, staff, students and the public, will be held at 11:30 a.m. in USC's Russell House Ballroom. The event will celebrate the school's history and honor the 10th anniversary of Mr. and Mrs. Norman J. Arnold's gift to establish an endowment for the school that the University named in their honor.
The annual Vernberg Lecture will be held at 1 p.m. in the Russell House Theatre and will feature the award-winning short film Aphasia and remarks by Dr. Julius Fridriksson of the Arnold School and Carl McIntyre, the film's star.
The Vernberg Lecture is free and open to the public. A reception will follow.
Tickets for the luncheon are $17.
Arnold School Dean Tom Chandler said the luncheon and the Vernberg Lecture, named for the school's founding Dean Winona Vernberg, recognize the role that the Arnold School has in public health education, research and outreach throughout the state and nation.
"Founded in 1975 as one of the nation's first schools of public health, the Arnold School has had a remarkable record of education and scholarly contributions in the field of public health," Chandler said. "We are proud of our successes and look forward to the positive impacts on health that the Arnold School will continue to provide to citizens in the 21st century."

Aphasia is the recipient of the Audience Award for Best Short Film at the Big Bear Lake International Film Festival in California and an El Capitan award at the Yosemite Film Festival, both held in September. The film will be featured at the Fort Lauderdale International Film Festival in Florida in October and is an Official Selection of the Radar Hamburg International Film Festival in Germany in November.
The 45-minute film tells the personal story of Carl McIntyre, an accomplished actor who had appeared in films, theatrical productions and television commercials. But his life changed dramatically in 2005 when he suffered a massive stroke, which left him with a speech disorder known as aphasia which affects one in every 300 people in the United States.
Aphasia is caused by damage to the language regions of the brain's left hemisphere. McIntyre's stroke left him virtually unable to speak. He also had problems with coordination. But his determination to regain his speech and coordination, which are chronicled in this film, have led to marked improvement, and he has had new roles as an actor.
Fridriksson, one of the world's leading stroke and aphasia researchers, said McIntyre's story will resonate with thousands of South Carolinians who have had family members and friends affected by stroke.
"South Carolina has one of the highest rates of stroke. What many people don't realize is that stroke is the No. 1 cause of disability among Americans – higher than accidents, Alzheimer's or Parkinson's disease," he said. "Stroke is a serious public health issue, and Carl's story brings to life the first-hand problems that many stroke patients deal with every day."
The showing of the film follows a major study on aphasia by Fridriksson that was published recently in the Journal of Neuroscience.
For questions about the luncheon and lecture, contact Karen Magradey at USC's Arnold School of Public Health, at 803-777-3471, or email, magradey@mailbox.sc.edu.
About Aphasia, the film
Aphasia wins two awards in California:
Best Short Film at Big Bear Lake International Film Festival, El Capitan award at Yosemite Film Fest
Aphasia won the audience award for Best Short Film at the 2010 Big Bear Lake International Film Festival on Sept. 18. The film was chosen in a highly competitive category with 77 other short films. The El Capitan awards for the Yosemite Film Festival were announced on Sept. 22.
Aphasia is currently enjoying artistic recognition on the film festival circuit. In addition to its recent win as Best Short Film of the Big Bear lake International Film Festival, the film was screened as an official selection of the Prince Edward Island International Film Festival in Canada in July 2010 and will be screened as an official selection of both the upcoming Fort Lauderdale International Film Festival in Florida in October and as an Official Selection of the Radar Hamburg International Film Festival in Germany in November 2010.
Aphasia was written by Jim Gloster of Charlotte, N.C. A director, actor and writer, Gloster wanted to capture the story of his friend, actor Carl McIntyre, who suffered a massive stroke in 2005 at age 44. As a result, McIntyre lives with aphasia, an acquired communication disorder that impairs a person's ability to process language but does not affect intelligence.
The film, which was shot in Charlotte, is a double dose of reality told in narrative form. McIntyre stars as himself and portrays his life story in a powerful and nuanced performance. Aphasia uses comedy and pathos to raise awareness about aphasia and provide hope and inspiration to anyone working to overcome obstacles in their lives. The film recounts McIntyre's first person experience during the stroke, his recovery and his struggle with his inability to communicate.
"Aphasia was the perfect way for us to use our art to bring something positive and far-reaching out of a tragic situation. And what better example to encourage anyone who has encountered a disability in life than to have Carl actually play himself in the movie?" said Donna Scott, executive producer.
"What Carl wanted to do most is act again, and Jim's script has given him the opportunity to do that, while simultaneously providing a way for him to encourage others to do the same," she said.
The production team of Jim Gloster, Chuck Bludsworth, Tonya Bludsworth and Donna Scott formed Little Word Films to produce Aphasia. The company has partnered with the University of North Carolina at Chapel Hill Division of Speech and Hearing Sciences http://www.med.unc.edu/ahs/sphs/ on this project.
To learn more about the Carl McIntyre Aphasia Project and to view a trailer of the film, visit http://www.aphasiathemovie.com or look for 'Aphasia the Movie' on Facebook.
More than 100,000 Americans develop aphasia annually. Aphasia affects about 1 million Americans, or 1 in 300 people. It is more common than Parkinson's disease, cerebral palsy or muscular dystrophy. While the most common cause is stroke, aphasia also can result from head injury, brain tumor or other neurological causes. To learn more, go to: www.aphasia.org.