HSPM and Pharmacy researchers named finalists by the International Society for Pharmacoeconomics Research for opioid study
March 4, 2016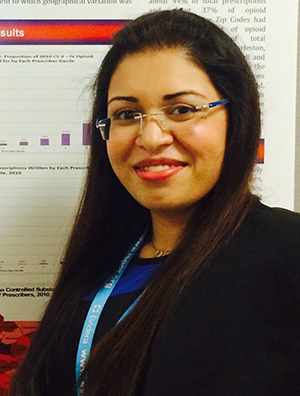 Zaina Qureshi with the team's research poster at the annual meeting for the International Society for Pharmoeconomics and Outcomes Research
A team of Health Services Policy and Management (Zaina Qureshi, Ronnie Horner, Ana Lopez-DeFede and Janice Probst) and South Carolina College of Pharmacy (Sarah Ball and Charles Bennett) researchers received the International Society for Pharmoeconomics and Outcomes Research Poster Finalist Award for their study on the patterns of opioid misuse and misprescribing in South Carolina. The team, which included collaborators from within and outside USC, worked together to study these issues within the state and the nation.
"Opioid abuse has become a national problem and is particularly problematic in the state of S.C.," says Qureshi, who is lead author on the study. "However, there is little understanding of its full scope and more importantly, how we might intervene to disrupt this epidemic."
She believes they received the award because the team was able to provide useful information on the scope of the problem within S.C., with particular attention to how interventions might be made through physicians writing the prescriptions. The team used geo-spatial mapping to determine patterns of opioid prescribing—the first time that such a technique was applied to study opioids in S.C. Accessing the data on controlled substances is a significant challenge, particularly when using data from smaller geopolitical units such as the county or zip code where it is more difficult to protect the identities of individuals.
Overcoming these barriers is a major win for the assistant professor whose original training was in pharmacy administration because she sees drugs as a proven means of dealing with many diseases. "But I realized that I needed to better understand population health if I wanted to more effectively impact the health of the most vulnerable in our population," she says. "Health policy is a means by which to have a broader impact."
However, Qureshi notes that health services are particularly difficult to address because there are so many factors involved (e.g., patients, providers, health systems). The key? "Multidisciplinary research involves calling upon insights from different disciplines to solve complex problems, and such diversity of perspective often leads to creative, viable solutions," she explains. "If we are to get the right therapy to the right patient at the right time and in the right form, we need to think more creatively about approaches to achieve that aim."
Qureshi emphasizes that this progress would not be possible without the support of all of her mentors on the team. "This study serves as a stepping stone to combat the opioid abuse epidemic plaguing our state and the nation, and I attribute our success to a wonderful team of experts that worked seamlessly to make our vision a reality," she says. "It definitely helped to have support from the Office of the Vice President for Research through the ASPIRE I funding mechanism."
Currently, Qureshi is focused on personalizing the provision of healthcare from the point of diagnosis to effective management of cancer. This led her to study opioid use because opioids are widely used in cancer treatment to control pain.
"Going forward I am committed to improving health outcomes by isolating and addressing individual barriers to receiving cancer care, and I aspire to continue to be a productive contributor to research on population-based health outcomes," she says. "I aim to achieve this goal by optimizing care for specific subgroups of the population so that they may reap the maximum benefits."