Project is brainchild of Sexual Health Program Coordinator Ryan Wilson
December 9, 2009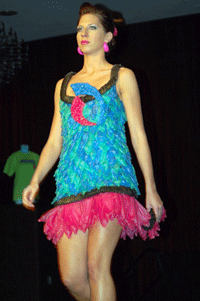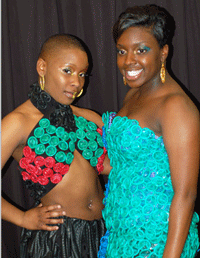 photo credit: Ben Truesdale
Colorful condom garments
on display at Russell House
The University of South Carolina is getting international attention for an imaginative safe sex project where student groups use brightly colored condoms to create designer garments.
Project Condom, the brainchild of USC Sexual Health Program Coordinator Ryan Wilson, merits a story in the current issue of the British Medical Journal which describes the effort as "a novel way to raise awareness of responsible sexual behavior and condoms . . . "
Wilson's inspiration was the cable TV reality show Project Runway, in which aspiring fashion designers produce their best creations and are then progressively voted off the series by the audience.
"Some friends and I were watching the show one night when the idea was hatched," he said.
The next step was to pitch the idea to One Condoms, a maker and distributor of a line of colored condoms. "The company liked the idea and they were more than willing to be part of the event," Wilson said.
As the USC show came together, organizers decided that each campus team would use 1,000 colored condoms to create a garment for a man or women. The rules also required each design to have a safe sex theme and promote condom use.
Ten student groups competed in the 2008 show; sixteen teams matched designs last spring. Both events played to packed houses in the Russell House ballroom.
This year's designs included one with a rainbow of colors symbolizing the number of HIV/AIDS victims in South Carolina. Another garment promoted use of Gardasil, a vaccine that combats HPV, a sexual transmitted virus linked to cervical cancer.
As he is making plans for a third show next March, Wilson said he wants to credit Arnold School faculty members Dr. Lisa Lindley and Dr. Lucy Annang with helping keep the competition focused on its underlying educational message.
Additionally, over the past year the two women presented details of the project to professional meetings that included the National HIV Prevention Conference in Atlanta, and the garments were displayed at the International AIDS Conference in Mexico City.
Lindley said a recent USC health assessment of student sexual activity supports the goal of Project Condom.
Lindley said the assessment "Showed that sexual activity was pretty high. Over three-fourths of the students were having sex but they were not using condoms very regularly."
Moreover, "South Carolina is usually number one or two in the country for both chlamydia and gonorrhea and we're number eight for HIV and AIDS," she said.
Wilson says Project Condom's third season will be held on March 2, 2010 as a partnership between USC SHARE: Men & Women together sharing responsibility to make a difference, and Carolina Productions. One Condoms again will be the sponsor.
For more information, click or call: