'Drive and Cycle Friendly' encourages Sumter County residents to take to two wheels for physical activity
July 22, 2011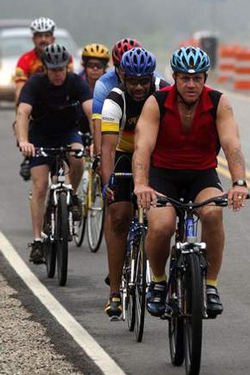 Sumter County Active Lifestyles (SCAL) is encouraging residents to add bicycling as part of their efforts to be physically active. SCAL is a community partner with the Arnold School's Prevention Research Center.
Sumter County Active Lifestyles (SCAL), the community partner of the Arnold School's Prevention Research Center, is continuing its efforts to combat obesity by encouraging Sumter County residents to spend more time on two-wheels.
The bicycling effort – "Drive and Cycle Friendly: Share the Road" -- is one of several public health programs connected to the USC center, said PRC interim director Dr. Sara Wilcox.
The cycling program recently was featured on WLTX-TV in Columbia when SCAL was asking area residents to share their opinions on what was needed to help make Sumter County more friendly to bicyclists.
In the interview with the television station, Linda Pekuri of SCAL said, "If we're telling people to become physically active, then we've got to provide people with resources."
A presence on the USC campus since 1993, the PRC is one of 37 centers funded by the Centers for Disease Control and Prevention. Each center has its own focus, but all are dedicated to research projects that promote health and prevent disease.
The origins of SCAL date back to 1999 when the group was formed to serve as the community advisory board for the PRC.
With the close cooperation of community leaders, SCAL has succeeded in bringing about policy and environmental changes and implementing a variety of programs to increase walking, biking, and other forms of physical activity, Wilcox said.
Cycling and walking trails have been improved, and groups of residents have participated in walking interventions and outreach efforts launched to identify and assist communities with limited resources for physical activity.
In addition to the policy and environmental change efforts, the PRC is designing a walking intervention as part of the SCAL project, said Wilcox.
That effort will be led by Dr. Lyndie Forthofer, an associate professor in the Department of Epidemiology and Biostatistics. Forthofer and Wilcox, along with Dr. Patricia Sharpe, were named co-investigators for the PRC program when it was renewed recently by the CDC.
Working in close partnership with communities to identify and address local health issues is a core value of the PRC program of the CDC. At the national 25th anniversary conference for PRCs held recently, 11 PRCs were recognized for their commitment by receiving a Community-Based Participatory Research (CBPR) Best Practice Award.
The Arnold School's PRC was among those on this elite list and shared the accomplishment with PRCs at the schools of public health or medicine at the following academic institutions: Emory University, Morehouse School of Medicine, San Diego State University (with University of California at San Diego), UCLA/RAND, University of Arizona; University of Maryland; University of North Carolina at Chapel Hill; University of Rochester; University of Washington; and West Virginia University.
A new video gives an overview of the CDC's Prevention Research Centers Program.
For more information about PRC activities at the Arnold School, visit the PRC website or the Sumter County Active Lifestyles home page.