U.S. senators hear from Arnold School expert about need for FIT Kids Act
May 20, 2010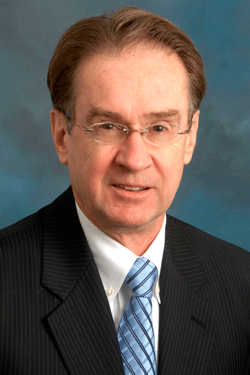 Russ Pate

USC exercise scientist Dr. Russell Pate said that his 25 years of research experience underscores the need for the FIT Kids Act, a congressional proposal encouraging quality physical education and activity for all public school children through grade 12.
The Arnold School professor testified Tuesday (May 18) in support of the legislation during a Capitol Hill hearing of the U.S. Senate Health, Education, Labor and Pensions Committee, chaired by U.S. Sen. Tom Harkin, D-IA.
The FIT (Fitness Integrated with Teaching) Kids Act, which already has been approved by the U.S. House of Representatives, includes amendments to the No Child Left Behind Act that would encourage public schools to provide regular and quality physical education and activity and hold them accountable for meeting national standards.
Pate said his years of research and service on national panels and federal advisory committees on physical activity and prevention of childhood obesity have led him to conclude:
"To achieve and maintain good health our young people should engage in 60 or more minutes of moderate to vigorous physical activity per day.
"The vast majority of American children and youth do not meet that guideline; indeed, most do not come close to meeting it.
"If our students are to meet physical activity guidelines and accrue the associated health benefits, our schools must deliver physical activity programs of the highest quality.
"An essential step toward insuring that our schools effectively provide and promote physical activity in their students is to hold those schools accountable for providing physical education and other physical activity programs that meet best-practice standards."
Joining Pate in speaking to the committee were: Timothy Shriver, chairman and CEO of the Special Olympics; Dr. Antronette Yancey, professor in Department of Health Services at the UCLA School of Public Health and co-director of the UCLA Kaiser Permanente Center for Health Equity; Dr. Barbara Levin, CEO of Chota Community Health Services in Madisonville, TN; and Beth Kirkpatrick, co-director of the Grundy Center PE4life Academy in Grundy Center, IA.
Pate acknowledged that it would not be fair or realistic to expect schools to solve the entire youth physical activity issue.
"Clearly, parents must play a central role, and community providers of youth services will be important too. However, I do believe it is both fair and indeed essential that our schools lead the way and do everything they reasonably can do to help us overcome this problem," he said.
Pate said school programs figure prominently in the U.S. National Physical Activity Plan, a private-public multi-organizational initiative announced May 3 that calls for implementation of over two hundred policies and practices across eight societal sectors.
Pate, who led the coordinating committee that developed the national plan, was assisted by Arnold School colleague Dr. Steve Blair, the senior scientific editor on the Surgeon General's Report of Physical Activity and Health, and research assistant Dan Bornstein, a Ph.D. student in the USC Department of Exercise Science
Pate told the Senate panel there also is substantial evidence that physical activity can improve academic achievement (including grades and test scores). Quoting a recent CDC report, Pate said, "Increasing or maintaining time dedicated to physical education may help, and does not appear to adversely impact, academic performance.' "
A faithful supporter of the FITS Kids Act, Pate also testified in support of the bill during a 2008 appearance before the U.S. House Education and Labor Committee.