Posted 7/25/2008
USC researcher calls for more physical activity in schools
because of epidemic of childhood obesity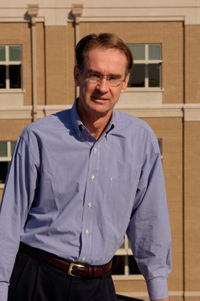 Dr. Russell R. Pate
Schools that skimp on physical education and physical activity may be failing their students' academic progress in addition to their health, a University of South Carolina expert told a congressional committee on Thursday.
"A new field of research is providing encouraging evidence that physical activity may help with brain function and activity, and other recent studies have found a positive correlation between aerobic fitness and academic performance," Dr. Russ Pate said in testimony to the House Education and Labor Committee.
Pate, an exercise physiologist in the Arnold School's Department of Exercise Science, said that normal-weight children also have lower rates of school absenteeism than obese children and may also have reduced rates of tobacco use, insomnia, depression, and anxiety.
Pate was one of seven witnesses to testify before the committee during its deliberations on the Fitness Integrated with Teaching Kids Act (FIT Kids).
That measure would encourage schools to work towards a national goal of 150 minutes of PE per week for elementary school students and 225 minutes per week for students in middle and high schools.
It would also require that all schools, districts and states include the quantity and quality of PE in the report cards currently sent to parents.
Increasing physical activity in U.S. schools has achieved urgent status because of the obesity crisis in the United States," said Pate, who also is USC's USC associate vice president for health services.
"The epidemic is so severe that some experts predict that this generation of Americans may be the first to have shorter lives than their parents," he said.
Thursday's hearing marked a week after a new study released by the National Institutes of Health showed that the physical activity of American children is dramatically decreasing as they move into their teenage years.
U.S. schools have drastically reduced their physical education programs in recent years; fewer than ten percent of all public schools now offer daily physical education classes.
A 2005 report by the National Center for Education Statistics shows that nationwide, public schools offer about 85 minutes of exercise for first-graders, and only about 98 minutes a week for sixth-graders.
Pate's testimony was on behalf of the American Heart Association (AHA), which has endorsed the FIT Kids Act.
In 2006, Pate chaired an AHA writing group that prepared a scientific statement calling for schools to lead the way to ensure that all children and youth participate in adequate physical activity during the school day.
Besides Pate, who was testifying before Congress for the first time, other witnesses included:
Rep. Ron Kind, D-WI;
Rep. Zach Wamp, R-TN;
Richard Simmons fitness expert and TV personality;
Tim Brown, former Oakland Raider wide receiver;
Lori Rose Benson, director of the Office of Fitness and Health Education, New York City Department of Education;
Robert M. Keiser, student advisor to Florida Gov. Charlie Crist's Council on Physical Fitness.
For more information:
Click here to access the full text of Pate's testimony.
Click here to access an archived webcast of the hearing.