Love of reading enabled student to pursue her dreams; now she wants to share her success
February 14, 2011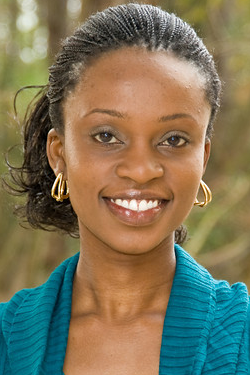 In addition to a rigorous academic schedule
at the Arnold School, doctoral student
Irene Okech is working to send books to Africa.
Raising money to ship $165,000 worth of books to the eastern part of Africa is not among the requirements for a Ph.D. from the Arnold School of Public Health.
But nonetheless, it's a happy challenge for Irene Okech, a native Kenyan and doctoral candidate in the Arnold School's Department of Health Services Policy and Management.
The books were donated by Books for Africa, a U.S.-based non-profit dedicated to ending a longtime book famine in Africa. The books are being housed in a 40-foot container at a Smyrna, Ga., warehouse waiting on the non-profit organization Imbako Public Health to raise $6,000 in shipping costs.
Imbako was founded in 2008 by Irene Okech and her mother, Judith Okech, a registered nurse and midwife. Imbako has operations in the United States and Kenya dedicated to allaying disparities in healthcare and education facing women and children in rural Kenya.
The books will be used to establish the Imbako Public Health Library, in Sitatunga, Kitale, and to supplement the reading material in secondary and primary schools in Kitale, an agricultural town in the western part of Kenya.
Kenya is an east African nation of 39 million residents, sitting on the equator with a climate ranging from desert to subtropical. It has a strong national economy and is famous for its coffee and tea. Recently it has developed a strong horticultural industry, producing flowers for markets in Europe.
The book project is a labor of love.
"I was fortunate because I grew up in communities where I had several libraries to go to. I love to read and it was those 'reading dreams' that have led me to where I am today," she said.
Okech submitted a proposal to Books for Africa early last summer and was overjoyed to learn of its acceptance in November. The only catch was that Imbako Public Health would need to cover the shipping costs of the donated books.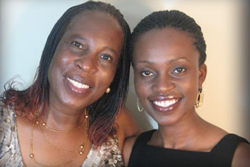 Irene Okech, right, and her mother Judith
Okech have formed Imbako Public Health
to help reduce disparities in
education and health among women
and children living in Kenya.
Raising money in this economy has been a tough job, but Okech has about $1,000 in donations so far and is hopeful that she can find donors for the remainder of the shipping bill by the end of March.
Okech's academic training includes a bachelor's degree in biology from the University of Nairobi, Chiromo Campus, based in Kenya's capitol city. She has lived in the United States for the past five years during which time she earned a master's degree in healthcare management and policy from Brenau University in Atlanta and started work on her doctorate at USC. Her work with Imbako Public Health, based in Alpharetta, Ga., also keeps her busy.
Last July, Imbako partnered with members of Beta Alpha Psi, an honorary organization for master's degree students and professionals at Georgia State University, on the Global Impact Project, a scholarship award program that aims to provide tuition assistance for young Kenyan girls and boys from rural areas.
To date, the Global Impact Project has paid for the full tuition of five young women from rural Kenya, who will study for associate and graduate degrees in the business, education, and nursing fields.
The connection with Georgia State continues to be reciprocal. Last September, master's degree students from GSU selected Imbako as the subject of a communication audit class project. In December, the student team ultimately provided Imbako management with comprehensive recommendations aimed at strengthening its communication strategies.
If her schedule remains on track, Okech said she will finish work on her doctorate next fall. Afterward she hopes to remain in the United States for several years to work and gain experience in healthcare policy.
"I want to do this to gain additional experience so I can better serve my people when I return home," she said.
She said working for the U.S. Centers for Disease Control and Prevention is one postgraduate job opportunity she hopes to explore.
In the immediate future, however, the library books are a top priority.
For more information about the Imbako Public Health and Books for Africa Project, or more information on the organization, email Okech at Irene.okech@imbakopublichealth.org or telephone her at (770) 873-2107.