USDA grant will target the alarming rate of childhood obesity in Palmetto State, enhance prevention efforts
July 18, 2012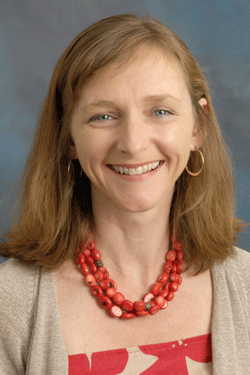 Dr. Sonya Jones says new grant will help
to prevent childhood obesity through
research, education.
Arnold School of Public Health researcher Dr. Sonya Jones is launching a study that will enable local communities to better address the state's chronic childhood obesity problem and develop new opportunities at USC for training in food systems and childhood obesity prevention.
The effort is supported by a $2.5 million grant from the U.S. Department of Agriculture's National Institute for Food and Agriculture Program and will extend over five years.
Statistics paint an alarming picture of the childhood obesity problem in South Carolina where nearly 32 per cent of children are considered either obese or overweight, according to the S.C. Medical Association's Childhood Obesity Task Force.
Jones' work is designed to support a U.S. Centers for Disease Control effort that has made $4.6 million available to South Carolina through the Community Transformation Grants program.
The transformation grants program supports a statewide initiative aimed at reducing the state's obesity rate in addition to reducing death and disability stemming from tobacco use, heart disease and stroke.
Jones said that the goals of the program include increasing the capacity of community leaders, USC faculty and students to develop practice-based evidence for community-based childhood obesity prevention.
That will involve training for community leaders in childhood obesity prevention and, at USC, creating an undergraduate minor, a graduate certificate, and service learning opportunities, field placements, and graduate assistantships for students.
The program also will catalyze and describe the process through which community-based teams develop practice-based evidence for childhood obesity prevention, said Jones, deputy director of the Center for Research in Nutrition and Health Disparities and a faculty member in the Department of Health Promotion, Education, and Behavior.
The project also expects to partner with several organizations and schools in developing and evaluating obesity strategies. Among these are Eat Smart Move More South Carolina, a coalition that coordinates obesity prevention efforts, and school districts across the state that are engaged in obesity prevention.
Also, the S.C. Public Health Institute, which works to advance the public health priorities of the state; the USC Center for Research in Nutrition and Health Disparities, a group of scholars and stakeholders in the field of nutrition and health disparities; the Green Quad Learning Center for Sustainable Futures, a campus organization concerned with food-related issues; and the Office of Student Engagement which encourages student learning within and beyond the classroom setting.
In addition to Jones, co-principal investigators for the project include Dr. James Thrasher, also of the Department of Health Promotion, Education, and Behavior, and Dr. Terry Woolfer and Dr. Darcy Freedman, both of the College of Social Work.
Jones said she expects the following project outcomes:
within complex community systems, childhood obesity prevention teams can develop practice-based evidence for their strategies;
participatory action research will be a useful a model for generating practice-based evidence;
building the institutional capacity of USC to educate future obesity prevention leaders will sustain obesity prevention in the future; and
faculty participation in the development of institutes and educational opportunities will strengthen faculty collaboration within USC.
"In summary, we expect that this project will strengthen the capacity of the state of South Carolina to prevent childhood obesity through research and education," she said.