Dr. Roni Neff leads symposium discussion on world's food future
April 23, 2012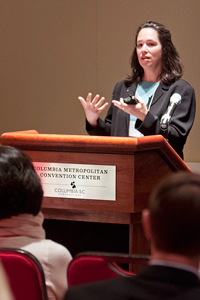 Soil quality is one of the greatest
threats to our food supply, Dr. Roni
Neff tells participants at the second
annual "Healthy Eating in Context:
Local Solutions, Global Challenges."

For those bemoaning the cost of rising gas prices and their impact on the cost of food, the pain at the pump is only one of the threats to the U.S. and world food supply.
Dr. Roni Neff of the Johns Hopkins Bloomberg School of Public Health, the featured guest speaker for the second annual symposium "Healthy Eating in Context: Local Solutions, Global Challenges," discussed the numerous factors affecting food security – diet, food production, population growth, public health and the environment, climate change, resource depletion and lack of equity.
The talk, sponsored by the Arnold School's Center for Research in Nutrition and Health Disparities and USC's Environment and Sustainability Program, seemed particularly relevant at a time when many Americans were beginning to view the production of food in a different light, exacerbated by news coverage on "pink slime" – a filler for ground beef – that has left many aghast at what's being dished up at restaurants, schools and grocery stores.
Neff's talk, "A Healthy Environment Is Our Food Security," focused on the complex challenges facing food production. "Today's food system is an industrial food system," designed to get the greatest yield from the lowest possible cost, she said.
"Since World War II, our agricultural system has become almost unrecognizable," she said of farming that comprises some nine billion animals, many of whom are raised in tight quarters and given drugs to promote growth and survive difficult living conditions.
Moreover, the world is not immune to the impact of the environment. In a global marketplace, "what happens around the world affects food supply," said Neff, the research and policy director at the Center for a Livable Future at the Bloomberg School of Public Health.
And with the global population expected to exceed nine billion people by 2050, the world will need to produce 70 percent more food than is currently being produced.
"Shortages always hit the poor, disenfranchised the hardest," she said.
Threats to nutrition and health, including climate change, soil depletion, water shortages, and peak oil and phosphorous supplies, further exacerbate problems of the food supply. "The food system is dependent on petroleum," said Neff, who is frequently called upon by the national media for her expertise on a variety of topics related to nutrition and food systems.
"If we are not focusing on this fact and ways to address current and future shortages, then we will have serious problems."
Solving these problems will involve public health professionals who will find themselves treading into agriculture territory that has historically been seen as someone else's domain, she said.
"But there will be a great need for professionals from a range of disciplines, along with community members, to take risks, build connections, learn each others' languages, and move forward together," she said.
The symposium drew approximately 130 researchers and representatives of state agencies and community organizations dedicated to nutrition and health. Representing the Arnold School were symposium coordinators Dr. Angela Liese, Dr. Sonya Jones and Dr. Holly Pope, as well as Dr. Brie McGrievey-Turner, Dr. Sarah Rothenberg, Dr. Edith Williams, Dr. Myriam Torres, Dr. Jim Burch, Dr. Ed Frongillo, and Dr. Michael Beets.
In an interview before the symposium, Neff said her career has focused on issues of social justice, environmental sustainability and public health. She began working on food system issues because she recognized this as one content area that would allow her to address several driving concerns.
"I came to recognize the great need to understand and address the many and powerful impacts of our food system on injustice and environmental threats, to identify structural and policy factors that affect what we eat, and also to better understand how food system efforts could bring about positive change," she said.
"It was a gradual process to connect my academic interests and social concerns with personal concerns, such as my love of food gardening and farmers' markets, ethical choices about food purchasing, and struggles with weight," Neff said.
Around this same time, she found herself dealing with elimination diets to diagnose her son's allergies. "It was eye-opening that nearly every item on the supermarket shelf had ingredients made with corn, soy, dairy, egg, and/or wheat," she said, "so I began to ask broader questions about 'why.' "
Her interest led to food systems, which is the entire network involved from getting food from production to the plate and beyond into waste or compost. It includes the people, practices, processes, policy and politics, supply and demand, as well as biology -- and how all these factors interrelate, she said.
"Looking at food as a system rather than just what individuals eat means taking into consideration these relationships and interactions, and seeking to understand how changes in one area ramify elsewhere," Neff said. "It is important to take a systems approach, because it recognizes the range of factors that combine in problems like food insecurity or obesity; and because it can give useful insights into ways to intervene."
Advances in public interest and policies affecting food and nutrition are being made, she said.
"I am impressed with the important work being done at the Center for Nutrition and Health Disparities at the University of South Carolina, including efforts to address food insecurity and food access," she said. "Other important advances include the proliferation of area food policy councils that bring together stakeholders from across the food system; the expansion of urban and peri-urban agriculture (along with associated policy change to enable this growth); dramatic growth of farmers' markets and consumer interest in eating locally."
Eating food produced locally helps support an interest in fresh fruits and vegetables, as well as a growing consumer interest in understanding the environmental impacts of their food, Neff said.
Large institutions, such as school systems and hospitals, offering procurement contracts to area farms support the local economy.
In spite of the advances, challenges exist.
Americans are often led to believe that it is necessary to produce food in environmentally unsustainable ways in order to "feed the world" or to keep food prices down, she said.
"We see food choice as an individual issue rather than recognizing the range of factors that play into it, from marketing to access to price to convenience to what I believe will ultimately be widely recognized as physiological dependence for many," Neff said. "Thus, we tend to stigmatize and blame those who are obese. We also tend to assume we know what someone eats based on their body size."
Many other common misconceptions about food are stimulated by the media.
"For example, we tend to disproportionately worry about small risks in the food supply, while ignoring the larger risks. Often we are misled by the 'nutrient of the day' based on individual research studies, rather than taking the big picture and emphasizing whole foods," she said.
"All that said, I am continually impressed by how much Americans do 'get' about our food," including regarding nutrition and concerns about environment and additives, said Neff.
And whether we think about, soil and climate change have a substantial impact on public health.
"Our entire food supply rests on soil quality. We may be able to compensate for depleted soils in the short term, with the use of manufactured and mined inputs. But as prices rise and supplies of natural gas and phosphorus peak and then decline, we cannot expect our children and grandchildren to have a stable food supply unless we take care of our soil," she said.
Contaminated soils pose health threats through direct contact and because they can lead to contaminated food and water.
A third main connection to public health is that healthy soils provide a range of what is known as "ecosystem services" that sequester vast quantities of carbon, support biodiversity, filter contaminants so they don't reach water, and feed a food web that starts with soil microorganisms and extends to the plants and animals that people eat. These ecosystem services contribute in numerous indirect ways to human health.
"Climate change has been called the most important health threat we face today. It will have critical impacts on food and water supplies around the world and contribute to hunger, stress, conflict and the associated threats to life and health," she said.
Other major health impacts include increased risk of some potentially significant vector-borne diseases; increased injury risk in severe weather events; increased risk of heat sensitive health outcomes for workers, seniors and others; and health conditions linked with air quality, she said.