Center for Research in Nutrition and Health Disparities holds symposium as it grows research expertise
March 23, 2011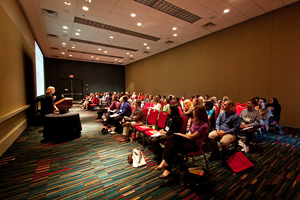 The Center for Research in Nutrition and Health Disparities attracted more than 110 participants for its first comprehensive symposium.
The Center for Research in Nutrition and Health Disparities at the Arnold School drew more than 110 researchers, students, and leaders of community organization and state agencies for its first comprehensive, university-wide symposium March 18.
"Healthy Eating in Context: The Role of Political, Physical, Economic, and Social Structures in Nutrition" covered topics related to the nationally compelling challenges and complexity of food access and the impact of poor diet and physical inactivity. The event included Dr. Stephen Kresovich, USC's vice president for research and graduate education, among its participants.
Kresovich, who gave opening remarks for the symposium, lauded the center's lead to bring University researchers together to tackle the health problems associated with being overweight, obese, and physically inactive. The center, which has 45 affiliated researchers from across campus, has taken the lead in an effort that is vital to the health and well-being of children and adults throughout the state and nation, he said.
"Universities work best in grass-roots initiatives," Kresovich said, praising the researchers for stepping up to the challenge to improve public health.
The research being done on nutrition and health, he said, falls into a broader category of "community health," which is one of the University's focus areas for scholarly studies.
The symposium sessions were organized as Food Environment, Access, and Behavior; Innovations in Environmental Measurement and Methods; Families and Food; and Policy Environments. Speakers included faculty representing the Arnold School, College of Social Work, College of Education, School of Medicine, College of Engineering and Computer Science, College of Arts and Sciences, and Moore School of Business.
"It excites me to come together with colleagues across campus to learn about the work that others are doing," said Dr. Darcy Freedman, a College of Social Work researcher whose areas of expertise include social and environmental determinants of Health.
Freedman is working with the S.C. Statewide Cancer Prevention and Control Program at the Arnold School to develop a farmers' market at a Federally Qualified Health Center (FQHC) that treats low-income patients. The first market will be in Orangeburg and is scheduled to open in May, she said.
Communities with socially marginalized populations tend to have the least access to healthful foods, she said.
"Research and policy efforts are beginning to focus on improving access to healthy foods within community environments," she said, although little theory is available to guide this work.
Improving healthy eating could be right at a person's fingertips.
Dr. Kuldar Taveter, a Fulbright Scholar from Estonia who is visiting the College of Engineering and Computer Science, is studying methods to process nutrition information by "intelligent" digital assistants, called agents, that would run on consumers' handheld digital devices, such as cell phones, PDAs and iPhones. These agents would read the price and nutritional information of food items, he said.
By bringing these facts literally to the hands of customers while they are shopping, he said, could encourage more healthy eating habits.
A better of understanding of nutrition and health is coming from the "next generation of research," in which studies are looking at how the built environment influences dietary behavior, said Dr. Angela Liese, a faculty member in the Arnold School's department of epidemiology and biostatistics and director of the Center for Research in Nutrition and Health Disparities.
A study of eight S.C. counties – Richland, Chester, Lancaster, Fairfield, Kershaw, Calhoun, Clarendon and Orangeburg – examined how location and number of stores and restaurants affected food selection.
"What determines where you shop?" Liese asked, as she discussed the role of distance and store types (supermarket, convenience and discount stores) on consumer decisions affecting nutrition.
Among the study's findings: Behaviors happen in a combination of settings, including local/area restaurants and grocery stores, as well as an individual's home. The study also found that the majority of people do not shop at the supermarket closest to their homes.
Dr. Edward Frongillo, chair of the Arnold School's department of health promotion, education, and behavior, led a provocative discussion on food insecurity among families with children.
A study by Michael Burke using data from the Early Childhood Longitudinal Study-Kindergarten Cohort, a nationally representative sample of U.S. school children, looked at food insecurity patterns in four grades – kindergarten, third, fifth and eight grades.
The results found that 35 percent of households were food insecure in at least one grade. Thirteen percent of households were classified as persistently food insecure. Households that were African American, had a single parents, lived in poverty, were less educated, lived in the Midwest and changed urbanicity were more likely to be food insecure.
"Children with food insecurity live adult roles," said Frongillo, noting that they try to protect younger children in the family and also protect parents by not sharing their plight with the outside world.
"Parents are often unaware of what is happening with children," he said. "Children are impacted even when parents believe they are protected."
Among the other presenters were James Hibbert and Drs. Natalie Colabianchi, Ruth Saunders, Christine Blake, Jihong Liu, Michael Beets, and Sonya Jones, all from the Arnold School; Dr. Bethany Bell of the College of Education; Dr. Dawn K. Wilson, College of Arts and Sciences; Dr. Melayne McInnes, Moore School of Business; and Dr. Kevin Bennett, School of Medicine.
Liese said she was pleased with the quality of research presented at the symposium and the enthusiasm for the program.
"This was a good first step," she said, "and I hope that a symposium like this can become an annual event for us."
Visit http://nutritioncenter.sph.sc.edu to learn more about the Center for Nutrition and Health Disparities.