From the Dietary Inflammatory Index to mental health, these Arnold School newsmakers have been in the spotlight!
March 27, 2014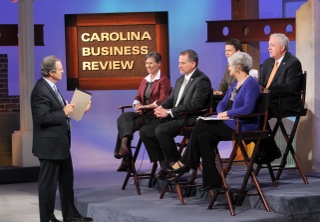 Dr. Jan Probst, front row left, was selected to participate in a public television program on mental health in South Carolina and North Carolina. (Photo credit: 2014 Daniel Coston)
Don't change the station! It's Dr. Jan Probst!
Dr. Jan Probst, director of the S.C. Rural Health Research Center, is a featured guest on an upcoming program produced by Carolina Business Review, which airs on Educational TV.
The program, titled "Mental Health Policy in the Carolinas," will air in two parts, with the first being shown at 9:30 a.m. Thursday, March 27. Part 2 will air at 9:30 p.m. Thursday, April 3.
If you miss either of the programs, do not panic. They are being carried on YouTube -- Part 1: http://youtu.be/3R82e8LzJ_U; Part 2, http://youtu.be/E9d1eL_xxMU.
Other participants in the program are Mecklenburg County Sheriff Chipp Bailey, Deby Dihoff of the National Alliance for Mental Illness, Dr. Peter Liggett of the S.C. Department of Health and Human Services and Mebane Rash of the N.C. Center for Public Policy Research.
Dr. Patricia Sharpe featured in NCCOR annual report
The annual report of the National Collaborative on Childhood Obesity features a study by Dr. Patricia Sharpe of the Prevention Research Center.

Sharpe's study, recently funded by a $2.1 million grant by the National Institutes of Health, is focusing on food shopping behaviors and access to food in Spartanburg and Florence in an effort to better understand how the community environment impacts food choices, access and health.
The NCCOR report explains, "Five years ago, the four largest funders of childhood obesity research joined forces to create the National Collaborative on Childhood Obesity Research (NCCOR): The Centers for Disease Control and Prevention (CDC), the National Institutes of Health (NIH), the Robert Wood Johnson Foundation (RWJF), and the U.S. Department of Agriculture (USDA)."
A goal of the collaborative was to advocate for offer funding opportunities that allow for the evaluation of natural experiments involving obesity-related policies and programs– through a process known as "rapid response" -- to accelerate progress on reducing childhood obesity. Rapid response is defined as a "funding opportunity with several submission deadlines throughout the year, and less than six months from grant submission to award."
The annual report features audio interviews with Sharpe and Dr. Harold (Bill) Kohl of the University of Texas Health Sciences Center at Houston. They discuss their research projects awarded through NIH's rapid response funding mechanism.
To hear Sharpe's interview, visit http://www.nccor.org/annualreport2013/ and click on the link, "Increasing knowledge to find solutions." (Note: Because of an incompatibility problem with Internet Explorer 11,  you may be unable to view the webpage's link to audio with that browser.)
Visit http://www.sph.sc.edu/news/prc2.htm to know more about Sharpe's study.
Doctoral student's study will focus on participation in health research
Arnold School doctoral student Deeonna Farr of the Cancer and Prevention and Control Program is seeking volunteers to participate in discussion groups about health research. The purpose of these discussion groups is to learn how people make decisions to participate in health research.
Individuals who identify as African American and who are over the age of 18 may be eligible to participate in the study.
Each group will last about 90 minutes. Refreshments will be provided. At the end of the discussion group, participants will receive $25 compensation for their time.
For information about the study and how to sign up, contact Farr at 777-7641 or email, farrde@email.sc.edu.
Chefs – and Dr. Hébert – on the 'Shoe!
Mix a little wine, add food from some of the Midlands' best chefs and throw in a wonderful spring night on USC's historic Horseshoe – along with a few words about health – and you have great ingredients for a successful event!
Dr. James R. Hébert, director of the Cancer Prevention and Control Program (CPCP) at the Arnold School, was a guest speaker for the March 24 "Chefs on the 'Shoe!" The event, established in 2012, honors the memory of USC McCutchen House Chef Jules Pernell and raises funds for scholarships for USC's School of Hospitality, Retail and Tourism Management.
Columbia's Cooking!, offered through CPCP, held a Future Chefs Cookoff as part of the "Chefs on the 'Shoe." The young chefs were trained by Columbia's Cooking!, and they prepared plant-based recipes based on the Dietary Inflammatory Index (DII) developed by Hébert and fellow CPCP researchers.
The index assesses the inflammatory effect of diet on humans. The research is critical because inflammation is known to contribute to chronic conditions, such as cancer and cardiovascular disease. Reducing inflammation can help prevent diseases or help in their prevention.
Hébert said that the DII has now appeared in some 100 studies and 35 countries around the world. "Diet sounds like deprivation. But we expand the (food) universe," he said. "There are many anti-inflammatory foods."
He went on to say that a diet of anti-inflammatory foods "is not about taking things away." In fact, "a plant-based diet promotes health and usually results in weight loss."
To know more about CPCP, visit http://cpcp.sph.sc.edu/.
Student nominated for Caroliniana award
Neal Price, a senior who is pursuing a B.A. degree in public health, is a finalist for the University's Caroliniana Award. Price is a full-time EMT and will graduate in May.
The awards ceremony will be held at 4 p.m. Thursday, April 10, in the Russell House Ballroom.
The Caroliniana recognizes senior students who have been the tireless, behind-the-scenes workers that every successful activity or organization needs. They are leaders through their actions and contributions to the Carolina community. Nominees must be involved seniors with cumulative GPA required for graduation and must be in good standing with their respective college.
This award, presented by USC's Leadership and Service Center, is by nomination only.