Posted 2/1/2008
Study involves breastfeeding women from
Columbia, Charleston
Researchers at USCís Arnold School have begun a study of breast milk, seeking to learn which of its immune factors and fatty acids best protect infants against allergy, infections, and asthma.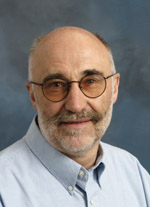 Dr. Wilfried Karmaus
Dr. Wilfried Karmaus, a professor in the Department of Epidemiology and Biostatistics, is leading the three-year effort that will involve a group of about 150 breastfeeding mothers from the Columbia and Charleston area. The study is funded by the Thrasher Research Fund, which awards grants for pediatric research.
Breast milk has long been considered the perfect source of nutrition for infants. "Breastfeeding creates an emotional connection with the mother, lowers the risk of childhood obesity and enhances immune factors to protect infants from viruses and bacteria," Karmaus said.
The research will involve two study populations: one a group of early term pregnant women and a second group recruited later in pregnancy who intend to breastfeed.
As part of the study protocol, Karmaus and his team will measure cytokines, immunoglobulins, and 3- and 6-omega fatty acids in breast milk. Then they will follow newborns for 24 months and conduct telephone interviews with the mothers at 6, 12, and 24 months.
In addition to maternal information about the child's health, parents will be asked to take their child, at 12-15 months of age, for an allergic examination at the USC School of Medicine.
"Comparing the risk of allergies, asthma, and infections with the content of breast milk will then provide information about the factors that render protection. However, this is only a first step. Once we identify the protective factors in breast milk, we then need to determine which diet and lifestyle factors can improve the composition of breast milk," Karmaus said.
Improving the composition of breast milk can only benefit nursing babies who already have lower rates of hospital admissions, rashes, ear infections, diarrhea and breathing problems than formula-fed babies do, said Karmaus.
Despite the obvious advantages, Karmaus said that in South Carolina, 60 per cent of African-American women and 40 per cent of Caucasian women do not breastfeed.
Pregnant women in Columbia and Charleston will be contacted to participate in the study. Women who want to learn more about the study can email peachstudy@gmail.com or call 1-888-566-7840.
For more information about breastfeeding, Karmaus said women should contact organizations such as La Leche League (1-803-996-0726 in South Carolina), the International Lactation Consultant Association, the National Womenís Health Information Center or the National Breastfeeding Helpline (1-800-994-9662).
Breastfeeding is a protected activity in South Carolina where state law provides that a woman may nurse her child in any location where the mother and the child are authorized to be and that the act of breastfeeding is not considered indecent exposure.
Working Women magazine also has information about breastfeeding in the workplace, but S.C. law does not create a right to nurse on the job, support for breastfed children in child-care or excusal from jury duty.