Study to focus on link between periodontal disease, cardiovascular disease in children with type 1 diabetes
June 7, 2011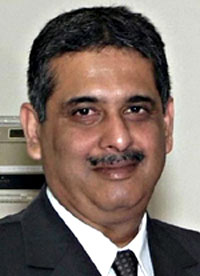 Anwar T. Merchant

A grant of more than $400,000 from the American Diabetes Association to the Arnold School of Public Health will support a study on dental health in children with type 1 diabetes.
Dr. Anwar Merchant, an associate professor in the Arnold School's department of epidemiology and biostatistics, is the lead researcher on the grant that will study the possible link between periodontal microorganisms and markers of cardiovascular disease in youth.
Children with type 1 and type 2 diabetes are known to be at risk for cardiovascular disease, and many also have periodontal disease, he said.
"Many microorganisms are related to periodontal disease," said Merchant, a scholar with the Center for Research in Nutrition and Health Disparities. "However, we only recently have discovered that a small subset – known as atherosclerotic etiologic organisms -- has been identified to be positively associated with atherosclerosis, a disease which causes plaque to build up in the arteries."
This finding is important because it means that the composition of microorganisms associated with periodontal disease is central in the prediction of cardiovascular disease, he said.
"It also implies that it may be possible to identify individuals at risk of developing cardiovascular complications from knowing the composition of the specific microbial composition that they have."
If the atherosclerotic etiologic organism-cardiovascular disease relation proves to be causal, it may be possible to prevent cardiovascular complications or reduce their extent by periodontal treatment, he said.
Researchers don't know whether youth with type 1 diabetes have higher levels of atherosclerotic etiologic organisms. They also are uncertain if these organisms are associated with early markers of cardiovascular disease, he said.
"This study will examine the extent to which atherosclerotic etiologic periodontal microorganisms are related to type 1 diabetes and the development of early markers of cardiovascular disease in youth," he said. "Understanding if such a link exists will enable us to develop more effective treatments and prevent complications of diabetes."
The study is linked to one at the University of Colorado where researchers are studying cardiovascular risk factors for youth, 12 -19 years old who have been diagnosed with type 1 diabetes for at least five years. That study has a control group of youth without diabetes.
Dental plaque samples from these participants are being collected and sent to the Forsyth Institute in Boston for storage and analysis.
The Arnold School study will continue collection of plaque samples and also provide testing for periodontal organisms and analyzing of data.
"This research has important public health implications because it has the potential to impact the treatment of youth with type 1 diabetes by identifying those at higher risk of cardiovascular complications earlier and possibly preventing or reducing the extent of complications in this population," Merchant said.
"The study will advance the future of dental care for children with type 1 diabetes and provide a foundation for future studies on ways to prevent cardiovascular disease among them," he said.
The study, which begins July 1, will continue for more than two years.
Biostatistician Dr. Jiajia Zhang, an assistant professor in the Arnold School's department of epidemiology and biostatistics, will collaborate on the study