Moderate carbohydrate consumption shown to have lowest risk for obesity
July 6, 2009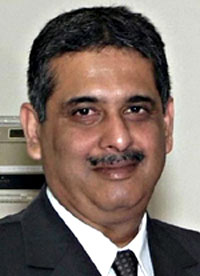 Anwar T. Merchant

Despite rising obesity worldwide there is no consensus on the best diet to maintain optimal body weight, says Dr. Anwar T. Merchant, an epidemiologist with the University of South Carolina's Arnold School of Public Health.
Writing in the July issue of the Journal of the American Dietetic Association, Merchant said a study of almost 4,500 Canadian individuals with optimum body weight found they were more likely to consume a moderate carbohydrate diet (on average 47 to 64 percent energy from carbohydrates).
Overweight or obese adults were more likely to eat a low carbohydrate diet (less than 47 percent of energy intake.
"Overweight and obesity develops when there is a positive caloric imbalance, and is impacted by genes and the environment. There is no consensus on the best dietary pattern to maintain optimal body weight," Merchant said.
Noting that most studies evaluated diets in relation to weight loss, he continued, "Our study provides needed data on the association between dietary composition, in particular carbohydrate intake, and risk of overweight and obesity among a healthy, free-living population."
(Merchant defines "free-living" as persons who are not part of a group that eats a particular diet, such as patients in hospitals and nursing homes or military personnel.)
Researchers found that individuals in the lowest carbohydrate intake category were more likely to be overweight or obese compared to those in all higher intake categories. Further analyses revealed that individuals consuming 290-310 grams per day of carbohydrates were least likely to be overweight or obese.
Merchant and six colleagues based their findings on data collected between from January 2004 and January 2005 in all 10 Canadian provinces by Health Canada, the public health agency of Canada.
The government surveyed a cross-sectional representative sample of Canadians with assessments of height, weight, diet, physical activities, chronic health conditions, smoking, and socio-demographic characteristics.
Merchant, an expert in the study of nutrition, said he became interested in the study while he was working at McMaster University in Hamilton, Ontario, Canada, where he was an assistant professor in the Department of Clinical Epidemiology and Biostatistics. He started work at USC in January 2008 under the university's Faculty Excellence Initiative program.
The article is "Carbohydrate intake and overweight-obesity among healthy adults." It appears in the Journal of the American Dietetic Association, Volume 109, Issue 7 (July 2009), 1165-1172, published by Elsevier.
In addition to Merchant, the other researchers were: Dr. Hassanali Vatanparast of the University of Sakatchewan; Dr. Syed Mahboob Ali Shah of the United Arab Emirates University and Dr. Susan E. Steck of the University of South Carolina.
Also, Shahzaib Barlas; Dr. Mahshid Dehghan and Lawrence de Koning of McMaster University.
The official journal of the American Dietetic Association the Journal of the American Dietetic Association is the premier source for the practice and science of food, nutrition and dietetics.