Arnold School epidemiologist to lead ACE, receive APHA Lilienfeld Award
June 23, 2010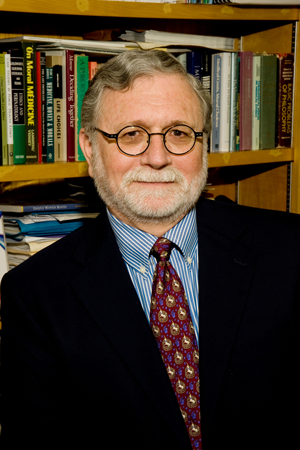 Robert E. McKeown

A noted researcher from the University of South Carolina's Arnold School of Public Health is the recipient of two national honors.
Dr. Robert McKeown, chair of the Arnold School's Department of Epidemiology and Biostatistics, will become president-elect of the American College of Epidemiology (ACE). He will begin that office in September.
In November, McKeown will receive the prestigious Abraham Lilienfeld Award from the Epidemiology Section of the American Public Health Association (APHA).
McKeown received word of both major career achievements on the same day, said Dean Tom Chandler who congratulated his colleague "on receiving such a high level of national recognition for a productive and meaningful career in public health."
The APHA Epidemiology Section Lilienfeld Award recognizes excellence in the teaching of epidemiology during the course of a career. It is given in memory of Dr. Abraham Lilienfeld, an outstanding teacher, scholar and former chair of the epidemiology department at the Johns Hopkins School of Public Health. Lilienfeld was one of the most influential figures in the development of epidemiology as a profession in the mid-20th century. He influenced the careers of many leading epidemiologic researchers. Past recipients of this award include some of the most highly respected epidemiologists of the last two decades.
"I was shocked when the first call came. Dumbfounded with the second. As great an honor as the Lilienfeld Award is, even more meaningful is the fact that one current and one former student gave their time and effort to make the nomination," McKeown said.
"I am touched by their action and what it means and by the many notes from friends and colleagues I've received since the announcement," he said. "The greatest pride I feel is not in any particular thing I've done, but in the accomplishments of so many of my former students who have gone on to do far more than anything I ever taught them."
Lilienfeld also was instrumental in the founding of ACE in 1979, so his legacy is attached to both of the honors that McKeown has received.
McKeown is a Fellow of ACE, former chair of its Ethics Committee, and a recent member of its Board of Directors. ACE is a credential-based organization with a primary focus on promoting excellence in the practice of epidemiology. ACE sponsors professional development activities, advocates for epidemiologists and for policies critical to public health and to epidemiologic research and practice, and promotes the ethical values, principles, and obligations common to epidemiologists across diverse professional settings.
Regarding his election, McKeown said, "It is gratifying and encouraging that my colleagues from across the United States and in other countries have given this vote of confidence. Over years of involvement on committees and the Board of Directors, I have come to appreciate the rich diversity of talent ACE represents and the wide range of settings in which epidemiologists are making a difference in the health of people."
"This organization is uniquely suited to supporting, enhancing, and extending that work. As pleased as I am, it is also scary to face the challenge of leading a national organization with such a rich, if relatively short, history," McKeown said. "I am heartened that the membership has asked me to work with them to continue that tradition. I am humbled and more than a little anxious, but also enormously grateful for this opportunity. "
McKeown has been chair of Arnold School's Department of Epidemiology and Biostatistics since 2008. Prior to that, he was Graduate Director for Epidemiology (2001-05), Interim Chair, (2002-03), Associate Chair (2003-05), Associate Dean for Research (2005-06), and Epidemiology Division Head (2007-08). He also serves as Director of the USC Health Sciences Research Core and Interim Director of the Institute for Advancement of Health Care, a component of the USC – Greenville Hospital System Academic Health System. He is a founding member of the Executive Committee of the USC Research Consortium on Children and Families and a core faculty member of the USC Center for Bioethics.
A native of Chester, S.C., McKeown earned a bachelor's degree in chemistry from Furman University in 1969. At Duke University, he studied theology, earning a Master of Divinity degree in 1972 and a PhD in philosophical theology in 1976. He earned a doctorate in epidemiology from the Arnold School in 1991.
His research interests include psychiatric epidemiology, perinatal epidemiology, child and adolescent health, public health ethics, and public health and faith communities.
During his career at the Arnold School, he has been honored with the Distinguished Alumnus Award, Faculty Research Award, Faculty Service Award, and the James A. Keith Excellence in Teaching Award.