Studies on HPV, women's health, gum disease are among undergraduate research under way in Arnold School
January 25, 2012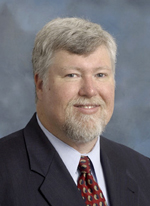 Dr. Greg Hand says the University's Magellan Scholars Program gives undergraduates an opportunity to participate in ongoing scholarly activity.
Arnold School of Public Health faculty members are mentoring the research projects of seven Magellan Scholars from a university-wide total of 67 beginning this semester.
Dr. Greg Hand, Arnold School associate dean for research, said the Magellan Scholar program is a primary means by which undergraduate students can work in ongoing scholarly activity.
"The students funded through this program have an exceptional opportunity to take advantage of their attendance at a research university -- working with nationally and internationally recognized investigators doing cutting-edge research," he said. "The Arnold School is proud of the productivity of our undergraduate students."
The new scholars, their mentors and their research efforts are:
Azza Abdalla, Honors, Senior, Biological Science; Dr. Jessica Bellinger (HSPM). The study, HPV Vaccination Uptake in African-American Women in SC: The Role of Culture, Religion, and Physicians, will evaluate knowledge and preferences regarding genital human papillomavirus and cervical cancer prevention in college-aged African-American women, identify cultural and religious beliefs about HPV vaccination, and explore characteristics and perceptions of physician-patient relationships in order to discover how these factors impact HPV vaccination decisions.
Jenna Durham, Capstone Scholar, Senior, Psychology; Dr. Denise Finneran (COMD). Durham's study, The relationship between short-term memory and early grammatical learning, will seek to answer whether there is a strong positive relationship between memory for speech sounds and new verb learning in preschool-age children.
Megan Brown, Honors, Junior, Public Health; Dr. Melinda Forthofer (EPID/BIOS). In her work with Forthofer, Brown will analyze the relationship between social networks and health status, particularly in the impoverished and medically underserved communities of Sumter County. The study is titled Assessment of Social Networks and Health Status in Sumter County.
Emily Learner, Honors, Sophomore, Exercise Science; Dr. Matthew Kostek (EXSC). The effects of voluntary wheel running and resveratrol in treating mdx (muscular dystrophy) mice will determine whether the functional and molecular effects of exercise and resveratrol are complementary in treating muscular dystrophy.
Ashley DiLiberto, Junior, Public Health; Dr. Anwar Merchant (EPID/BIOS).  In this study with Merchant, DiLiberto will seek to determine whether there is a relationship between specific types of bacteria in gum disease and adverse pregnancy outcomes, including preterm labor and delivery. The study is titled The Role of Periodontal Microorganisms in Adverse Pregnancy Outcomes.
Kaitlyn Pruitt, Honors College, Fourth Year, Russian; Dr. Allen Montgomery (COMD).  The study, Music Appreciation in Adult Cochlear Implant Users, will seek to answer whether recent developments in cochlear implant inputs (audio cables, programming strategies) better enable implanted adults to recognize and appreciate music.
Jessica Steele, Honors College, Third Year, Baccalaureus Artium et Scientiae; Dr. Myriam Torres (EPID/BIOS). The study, HIV Knowledge, Beliefs and Behaviors among Latinas, will seek answers from Latina women about their beliefs and knowledge about HIV testing and AIDS during pregnancy. The study will examine how accurately the patient receives information about HIV/AIDS from her health provider, whether most pregnant Latina women take or intend to take an HIV test, and their reasons for taking or not choosing to have an HIV test.
The Magellan Scholar program was created in 2005 to enrich the academic experience of USC's undergraduates. U.S.News & World Report's 2011 college guide lauded the University of South Carolina for having one of the nation's best programs for "Undergraduate Research/Creative Projects." Since the first Magellan Scholars were named in 2006, USC has awarded more than $1 million for undergraduate research.
Each Magellan Scholar receives up to $3,000 to fund a research project. Students compete for the award by submitting a research, scholarship, or creative project proposal that has been developed in collaboration with his or her faculty mentor.