Lane wants to return home to help solve wide array of health issues facing his people
December 12, 2008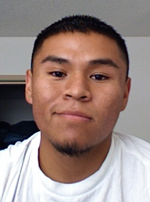 Aaron Lane
Arnold School graduate student Aaron Lane has scheduled another stopover on his way back to his native land, the Navajo Nation in America's desert Southwest.
On Jan 5, Lane will be in Baltimore for the 2008-2009 Johns Hopkins Winter Institute, An Interdisciplinary Approach to Understanding the Health of Native Americans.
He will be wearing the mantle of a full scholarship to the prestigious institute created to train people working at the frontline with Native American communities to help them solve their own problems.
Acceptance to the institute reflects Lane's personal goal of studying public health policy and practice so that he can work with the Indian Health Service to reduce the burden of chronic disease on the reservation, said Dr. Mindi Spencer, HPEB faculty member who drafted a recommendation letter for the first-year graduate student.
Growing up in a traditional home on the 25,000-square-mile reservation, Lane says he saw "in my own family members" some of health issues that he would like to solve.
Obesity, diabetes, high blood pressure and alcoholism are among many health issues endemic to the tribe's 250,000 members. Most of the Navajo reside in the "Four Corners" area where the borders of Arizona, New Mexico, Colorado and Utah intersect.
Lane was drawn to the Arnold School's Department of Exercise Science by a mentor at the University of Minnesota where he earned an undergraduate degree.
"I came to South Carolina because I wanted to study under some of the best researchers in exercise science in the country," he said.
The program also was attractive because it was so broad-based, integrating aspects of health promotion, program development and other facets of public health practice.
Lane believes that exercise is under-utilized in health care programs on the reservation and elsewhere. "Most of what we see today is based on a treatment mode instead of prevention," he said.
Being a Navajo himself may carry some weight in public health work back home, but Lane said just as important is a culturally sensitive attitude. "I want to ask people about what motivates them or what barriers they see to exercise," he said.
With good grades at the University of Minnesota Lane had no trouble finding work as a graduate assistant, teaching undergraduate courses in anatomy and physiology. If his studies go as planned, he expects to finish his master's degree in about a year and then begin work on a doctorate.
He says Ph.D studies may take him farther from his roots in Arizona, but returning home is a constant call in his academic career.