Much of S.C. aid went to remote community of Jérémie
February 11, 2010

Kolby Taylor
Loading an airplane with relief medical supplies was exciting, but Kolby Taylor found real satisfaction from seeing photos of those same materials being used at a hospital in earthquake-ravaged Haiti.
Taylor's involvement in the Haitian relief effort is just one story among many in the international effort to support the Haitian people after the Jan. 12 quake killed 200,000 persons and left much of the island nation in ruins.
"Coming from a medical background, I think we made a big difference," said Taylor, an Arnold School student who has been working as a graduate assistant at the S.C. Hospital Association (SCHA) for the past four months.
Working with the association is a good fit for Taylor, who was a pre-med, biology major as an undergraduate at USC.
The SCHA teamed with the Lexington-based Haiti Children Project (HCP), Taylor said, to fly medical supplies and medications into rural areas of the country – areas so remote that small aircraft often have to land on dirt airstrips and roads.
Kolby Taylor, right, a master's degree student at the Arnold School, works with volunteers to pack supplies being sent for Haiti relief efforts.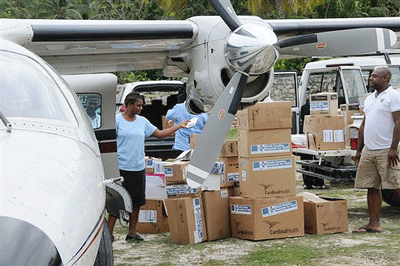 Medical supplies from South Carolina Hospitals for Haiti are unloaded for use at a hospital in the western part of the island.
Much of the aid from South Carolina was flown to a clinic in Jérémie, a town of about 31,000 people. Located in an isolated part of western Haiti, Jérémie has become a community of need. A steady stream of severely injured Haitians from Port-au-Prince and surrounding areas have converged on the town since the earthquake, causing relief needs to escalate.
Taylor said medical supplies were donated from various healthcare organizations throughout the Palmetto State, including Palmetto Health, Lexington Medical Center, Oconee Medical Center, Upstate Carolina Medical Center, Newberry County Memorial Hospital, Greenville Hospital System, and Tuomey Healthcare System.
Donations also came from Doctor's Care and the Moore Orthopedic Clinic, the SCHA said.
The supplies arrived at Eagle Aviation's terminal at the Columbia Metropolitan Airport where volunteers and S.C. Hospital Association staff repackaged the items from pallets into the aircraft.
The relief effort, which has been named South Carolina Hospital for Haiti, will continue, said Taylor, and additional flights probably will carry supplies to meet specific needs at Haitian clinics and hospitals.
Elsewhere at USC, President Harris Pastides said that a special team of healthcare personnel – an orthopedic surgeon, infectious disease specialist, trauma psychiatrist, and an anthropologist skilled in the language and culture of Haiti – will go to the island to assist in the ongoing relief effort.
In the short weeks since the earthquake, USC students have collected funds, staged a rock concert, and organized support for Haitian students.
"A special fund, 'Gamecocks Helping Haiti,' has been created for this important endeavor. It can be used in such efforts as getting the healthcare team to Haiti, or assisting in keeping a Haitian student in school here. The fund can also be responsive to needs that have not yet been determined," Pastides said.
Taylor, who will graduate with an MHA degree in May, says she plans to continue working with the Haitian effort until her assistantship ends. She has been awarded a post-graduate fellowship to continue her studies of health administration at the Henry Ford Health System in Michigan.
After her fellowship, Taylor said that she would like to work in hospital administration and perhaps revisit her original goal of becoming a doctor.
For more photos of the South Carolina Hospital for Haiti project, click here.