Study focuses on problem of childhood hunger
JANUARY 10, 2012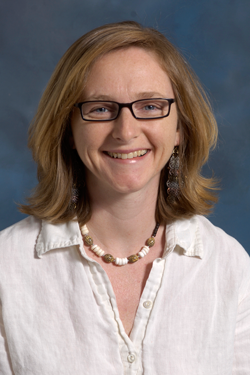 Dr. Sonya Jones, who is leading a study
aimed at reducing hunger among America's
children, says many families may not know
about resources available to them.
"When we think about millions of hungry children, we don't think about America. We relate the problem to other nations, like Ethiopia, India or Somalia. The sad truth is that one is five American kids is at risk due to poor nutrition." – Kristen Davis, actress

Arnold School of Public Health researchers have launched a study to better understand the problem of childhood hunger and advance a federal initiative to solve the problem by 2015.
The study is funded by a $550,000 grant from the USDA Food and Nutrition Service, said Dr. Sonya Jones, deputy director of Arnold School's Center for Research in Nutrition and Health Disparities and principal investigator of the study.
Other University of South Carolina researchers will include Drs. Angela Liese, Christine Blake and Jan Probst, all from the Arnold School, Dr. Darcy Freedman of the College of Social Work, and Dr. Bethany Bell of the College of Education.
If the goal of ending childhood hunger is to be met, researchers need to know what household and community conditions can be changed quickly and how the USDA can target areas where hungry children are most likely to be found, she said.
Numerous programs exist that make food available to hungry children and their families, including 14 operated by the federal government alone.
"In a country as rich as the United States, there's no reason why we should have children who don't have access to food. There are lots of resources for families," said Jones, who is on the faculty in the Department of Health Promotion, Education, and Behavior.
In the Midlands, for example, the Harvest Hope Food Bank, food pantries, soup kitchens operated by churches and charitable groups provide food for children and families.
"The question is whether these programs are making it into the communities where the people have the greatest needs and whether the people are even aware the resources are there or where they can get to them," she said. "Then, there are the retail food sources where most people in the country get their food. Are people able to access stores where they can buy the right kinds of food at an affordable price."
The study, which began in July 2011 and will continue for two more years, involves a survey in an eight-county region in South Carolina, including Richland, Fairfield, Kershaw, Chester, Lancaster, Calhoun, Orangeburg and Clarendon.
The study will seek to identify the households and community-level conditions that increase the risk of hunger in threatened, insecure households. Researchers will rely on community leaders and opinion makers in the study area to determine what anti-hunger organizations can do to deal with the issue of childhood hunger.
One of the things they want to determine is whether anti-hunger organizations are coordinating their efforts, "so if a family applies for assistance from one program, they are also referred to other programs," she said.
Researchers will interview about 600 people who have a child living in the home at least half of the time.
At the end of the study, researchers will prepare recommendations based on discussions with community leaders and interviews with caregivers. A group of families will review the recommendations with an eye to answering whether they are realistic and can help solve the problem of hunger.