Arnold School sends cadre of public health professionals into world to improve lives of children, adults
May 12, 2011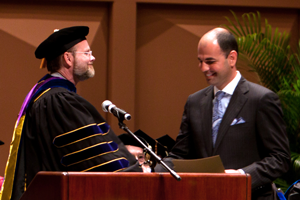 Dr. Tom Chandler, dean of the Arnold School of Public Health, welcomes alumnus John Singerling as speaker for the 2011 Hooding Ceremony.
With one-fourth of the U.S. public health workforce retiring soon, job prospects are promising for the 2011 graduating class, Arnold School Dean Tom Chandler said during the annual Hooding Day celebration on May 5.
"The public health employment future is bright, and the event that you are witnessing here is a transformation that our state and our country need today more than ever before," Chandler told the assembly of 180 graduates and hundreds of parents and friends gathered at USC's Koger Center.
Graduation speaker and Arnold School alumnus John Singerling, was equally optimistic as he recalled his years studying for a master's degree in health administration from the Department of Health Services Policy and Management.
"It was 15 years ago today that I was in your place," said Singerling, gesturing to the students sitting in the first rows.
After earning his master's degree, Singerling found his way to the leadership fast track at Palmetto Health hospitals, which today comprise Palmetto Health Baptist, Palmetto Health Richland, Palmetto Health Children's Hospital and Heart Hospital. Palmetto Health is the largest employer in the Midlands with about 8,000 employees and a budget of more than $1 billion.
"I have a chance to make a difference every day in the lives of people," said Singerling, who also described his hospital colleagues as the "most caring and compassionate people on Earth."
In reporting on the Arnold School's remarkable growth in students, faculty and funding,
Chandler said recent highlights included:
Record success in securing extramural grant support of more than $27 million from federal agencies and private foundations in the past year. The Arnold School faculty also had 288 peer-reviewed articles published in professional journals.
In December 2011, Arnold School faculty are expected to move into a 60,000-square-foot building, known as Discovery I, in USC's research district, Innovista. The building will bring 80 percent of the school within one block of each other.
The school has enhanced outreach and linkages with public health practice colleagues and community partners throughout the state and Southeast. "We have done this despite the severe budget cuts inflicted on us annually by the state since 2007. You all should also know that the Arnold School's remarkable service and research prowess is a key reason why the University recently received the prestigious Carnegie Foundation's highest recognition as a "university of high service and high research activity."
"Most people do not realize how much of a role public health plays in their everyday lives," said Chandler in describing the talents of the 2011 graduating class.
Among the graduates were:
a health administrator going to work in a hospital that serves the Palmetto State's rural population by improving access to preventive health services;
an environmental health scientist who will work to find technically feasible approaches to safely remediate polluted rivers, to protect the public from MRSA and E. coli, and to protect the state's precious coastlines;
a health educator who will be employed by a county health department to design programs to decrease teen pregnancies and prevent STDs;
a speech pathologist who will work to improve communication among stroke patients who have so much left to say, but lack the ability to say it;
an epidemiologist who will work at the Centers for Disease Control and conduct research on Alzheimer's disease;
a biostatistician who will work for a pharmaceutical company to detect side effects attributable to new drugs;
exercise scientists who will deliver lifespan fitness programs for cardiac rehab patients and work with public schools to eliminate childhood obesity.
Chandler also recognized the school's top benefactors, Norman and Gerry Sue Arnold, and retiring faculty members, Dr. Sam Baker from the Department of Health Services, Policy and Management and Dr. Harriett Williams from the Department of Exercise Science.