Study focus is on prenatal care to reduce premature births
September 28, 2012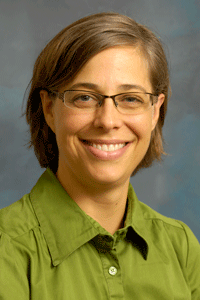 Emily Heberlein
Emily Heberlein, a doctoral student in the Arnold School of Public Health, is the recipient of a $39,704 Health Services Research Dissertation Grant Award from the Agency for Healthcare Research and Quality.
The award is for a one-year study, Comparative Effectiveness of Group Prenatal Care on Women's Psychosocial Health. She is partnering with the Greenville Hospital System (GHS) for the study, which will examine why women who participate in group prenatal care may have improved birth outcomes.
Continued high rates of preterm-birth and low-birth weight, with persistent racial disparities, remain a significant public health concern in South Carolina, said Heberlein, who is studying in the Department of Health Promotion, Education, and Behavior.
According to 2008 figures from the National Center for Health Statistics, South Carolina has one of the highest rates of preterm births in the country -- 14.3 percent of women deliver at less than 37 weeks' gestation. Statistics also show that there is also a tremendous racial/ethnic disparity in rates of prematurity -- 19.7 percent of non-Hispanic black women deliver preterm, compared with 12.7 percent of non-Hispanic white women and 13 percent of Hispanic women.
Group prenatal care has shown some promising effects in reducing rates of preterm birth, Heberlein said.
In the Centering Pregnancy model of group prenatal care – originally developed by nurse-midwife Sharon Schindler Rising – care is provided in 10, two-hour group sessions with eight to 12 women with similar due dates. The group setting provides social support and more time for visits to increase patient education and empowerment, as well as motivation and skills for self-care.
Under the leadership of Dr. Amy Picklesimer, a GHS obstetrician-gynecologist, the hospital has made group prenatal care an option for women with low-risk pregnancies since 2009.
In the May 2012 issue of the American Journal of Obstetrics & Gynecology, Picklesimer and Dr. Deborah Billings from the Arnold School, and colleagues published findings that women in group prenatal care had a 47 percent reduction in preterm birth compared to women receiving traditional prenatal care.
Heberlein said the focus of her research is to determine why group care may have such a positive impact on women.
"We'll be looking at the psychosocial outcomes, like depression, stress, coping and anxiety. The theory is that women have more opportunity for education, and supporting one another, and are more empowered in this model. And that includes for their pregnancy and life in general," she said.
Heberlein praised the collaboration and mentorship she has from both USC and GHS – Billings, Dr. Edward Frongillo and Dr. Naomi Farber at USC, and Picklesimer and her team at GHS.
Research staff at the Greenville Hospital will do the legwork for recruiting and surveying two groups of some 100 women each. One group will participate in group prenatal care, the other in traditional prenatal care.
Heberlein has developed questionnaires for each group to complete when the subjects are first recruited, shortly before the end of pregnancy, and then at six weeks postpartum. The project also includes frequent, brief interviews with a smaller group of women during pregnancy through the early postpartum period.
Heberlein said a combination of personal and professional interests stimulated her interest in group prenatal care. She spent nearly 10 years working in the mental health field, and, as a recent mother of two children, she has fresh memories of her own prenatal experiences.
A student for three years at USC, Heberlein earned a bachelor's degree from Northwestern University and a master's degree in public policy and management from Carnegie Mellon University.