10 graduate students earn awards for research
April 23, 2012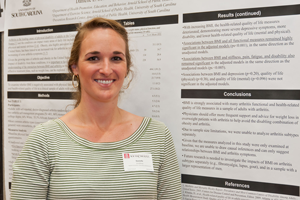 Danielle Schoffman from the Department of Health,
Education, and Promotion took first place at the
USC Graduate Student Day Awards in the
scientific poster competition for Health
and Life Sciences. She was one 10 Arnold
School students to receive awards.

Ten students from USC's Arnold School of Public Health have been recognized for their research achievements at the 11th Annual USC Graduate Student Day Awards, including two first place and two second place award recipients.
Receiving first place awards were doctoral students Bradley Gordon, Department of Exercise Science, for a study on muscular dystrophy inflammation and stress, and Danielle Schoffman, Department of Health, Education and Promotion, for a study on the effects of Body Mass Index on adult arthritis patients.
Second place recipients were Department of Exercise Doctoral students Kamaljeet Kaur for a study on peripheral nervous system abnormalities; Robin Shook on the relationships among metabolic rates, cardiorespiratory fitness and body composition; Jennifer Steiner on the effect of diet adjustments on breast tumor formations; and Kristin Van De Griend of Health Promotion, Education and Behavior on an online prevention program for sexual harassment and assault.
Honorable mention status was accorded to Eva Preisner in Environmental Health Sciences for a study on quorum sensing genes; Shaun Owens of Health Promotion, Education and Behavior on Prostate Cancer Screening; and Benjamin Gordon and John Sieverdes of Exercise Science for their respective studies on physical activity evaluation at a medical wellness center and recovery factors on exercise-induced muscle damage.