Fletcher is third Arnold student to receive CDC dissertation grant
September 9, 2009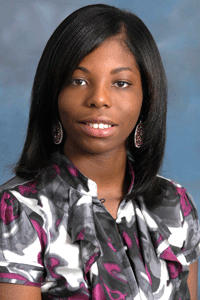 Faith Fletcher
Arnold School doctoral candidate Faith Fletcher is the recipient of a $35,000 dissertation grant from the Centers for Disease Control and Prevention to support a research project involving HIV positive women.
Fletcher is the third Arnold student to receive funding through the program since it was launched in 2007 to support student research undertaken to qualify for a doctorate.
Exercise Science student Chris Kline received a grant last year to study the effects of exercise on persons suffering from obstructive sleep. Kristina Weiss, a student in the Department of Epidemiology and Biostatistics, received a grant in 2007 to study HIV/AIDS reporting issues.
Fletcher, a Thibodaux, LA native, is a graduate assistant for the Institute for HIV Prevention Leadership (IHPL). She is seeking a doctorate in the Department of Health Promotion, Education, and Behavior.
Her dissertation is titled Pregnancy Intentions among HIV Positive Black Women in South Carolina: A Mixed-Methods Approach.
"What we want to understand are the factors that influence HIV positive black women to become pregnant." Her study has a particular focus on determining if pregnancy intentions differ among HIV positive black women with seropositive partners compared to those with seronegative partners.
With the assistance of a number of public health/HIV organizations and her own recruiting efforts, Fletcher is screening a group of approximately 200 women from which she will be conducting face-to-face interviews and administering surveys.
Through pilot interviews with eleven participants, Faith discovered that many women – through self-study or other information sources -- are aware that if medical protocols are closely followed the risk of HIV transmission to infants is relatively low.
Fletcher contends because some women intend to become pregnant despite their HIV status, public health preventive measures must balance and respect a woman's desire for motherhood with an aggressive focus on minimizing HIV transmission risks to the infant and partner.
Fletcher expects to finish her study by the time she graduates next spring. Her long-term career goal is to become a faculty member at an academic institution. Through her research career and social advocacy, she hopes to amplify the virtually silent voice of black women living with HIV particularly in matters related to their reproductive health and well-being.
This spring, Fletcher was awarded the Preparing Future Faculty credential through the Center for Teaching Excellence at the annual Graduate Student Day.
Fletcher earned her bachelor's degree in biology and a minor in bioethics from Tuskegee
University in 2004. She earned a master's of arts in bioethics, humanities and society - an interdisciplinary degree - from Michigan State University in 2006.
"Faith has been an outstanding student both inside the classroom and beyond, having sought the opportunity to work with a number of local community agencies on HIV prevention and control in South Carolina", said Dr. Lucy Annang, Fletcher's advisor on the study.
"Considering this interest, it was only fitting that she seek opportunities to conduct her own research to elucidate the issues impacting HIV positive women on a local level," said Annang, an Assistant Professor in the Department of HPEB and IHPL Research Fellow.
Faith's other dissertation committee members include Drs. Donna Richter, Ruth Saunders, and Richard Sowell.