USC study aimed at increasing physical activity of older African American men

Posted 03/14/2007
---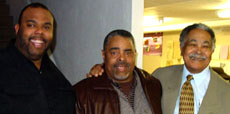 Interested?
For more information on the study or to volunteer as a participant, call Anna Feeney at 803-777-0526 or toll-free at
1-866-247-8924. Her email address is feeneya@gwm.sc.edu
---
University of South Carolina researchers are working on a two-year project aimed at increasing physical activity among African American men over the age of 45.
Dr. Steven P. Hooker, director of the USC Prevention Research Center, said he and a team of colleagues are conducting one-on-one interviews with group of about 50 Midlands-area African American men, seeking to learn about their physical activity attitudes, beliefs, knowledge, barriers, and preferences.
After the interviews are completed, the data will be studied to help design, execute and test a pilot program to increase physical activity among older African American men, said Hooker, who also is a research associate professor in the Arnold School's Department of Exercise Science.
"We're about half-way through the interviews," said Hooker. "We've primarily drawn from folks living in Richland and Lexington counties. We're still actively recruiting and, in particular, we're now looking for men 65 years and older to fill the gaps in the men we'd like to interview."
The older African American men are being questioned about a wide array of issues including the types of physical activity they prefer, the settings where they want to be active, incentives that will motivate them to be active, and factors that create barriers to being active.
Hooker said input from both active and sedentary older African American men will be important to the study. "We want to interview older men who are motivated and have overcome barriers. However, we also want to hear from less active men and their ideas on why regular physical activity has been difficult and what might help them to become more active."
A five-person community advisory committee and two national consultants with expertise on the culture of the African American male community helped the researchers develop the interview questions. They will also assist with interpreting the information gathered from the interviews and in creating the intervention strategies.
The interviews are expected to be finished by the end of this Spring and the pilot intervention launched early next year. "We really don't know yet in what setting the intervention might take place. It could be through a workplace, senior center, local nonprofit organization, or faith-based institution" he said. "It all depends on what the majority of the men prefer."
The study is supported by a grant from the National Institute on Aging.