USC first lady Patricia Moore-Pastides is popular guest instructor
March 1, 2010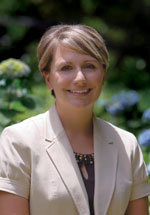 Brook Harmon
Midlands area foodies have happily discovered the shiny new kitchen at the Arnold School's Cancer Prevention and Control Program can cook up a lot more than nutritional research.
In addition to its research chores, the kitchen is home to Columbia's Cooking!, a CPCP initiative that offers popular cooking and nutrition classes to the public.
In operation for about 18 months, the Columbia's Cooking! kitchen can be found at 915 Greene St. in the Discovery I building. The site is part of the University's Innovista research campus, said program director Brook Harmon.
Harmon also is a registered dietitian and regular instructor at the kitchen and around town when churches, community organizations and local television stations ask her to take her cooking program on the road.
Columbia's Providence Hospital has become an important partner with Columbia's Cooking!, said Harmon, making its medical and nutritional experts available to teach and prepare food.
The healthy cooking efforts pay homage to the serious issues that led to the kitchen's creation. CPCP director Dr. James Hébert says research "indicates diet is the most important factor in creating personal, family, and population health as well as protecting people from deadly diseases."
Harmon says she aims for two healthy cooking classes per month, each featuring low-fat menus, using fresh fruit and vegetables and seasoned with herbs and spices chosen for their anti-inflammatory qualities.
Harmon said the spices are believed to help with heart disease and cancer prevention in addition to a tasty flavor punch without using more salt.
The gleaming kitchen would probably make celebrity chef Rachel Ray feel at home. The 1,200-square-foot room has overhead mirrors to give an audience a birds-eye view of the food preparation counter.
For hands-on classes, the cooking area can be divided into a half-dozen food preparation stations where students can work in small groups.
Harmon says classes are intimate gatherings where participants gather around family-style dining tables complete with place settings. The instructor(s) talk about the night's class theme and encourage feedback on the menu and its possible variations.
After the groups finish their cooking tasks, the food is transferred to a buffet table were everyone fills a plate and returns to the table to enjoy and critique the meal.
Class themes are planned months in advance with a nod toward holidays and trends in the epicurean world. Examples include "Romantic Evening for Two," during the Valentine Day period, "Julie & Julia" Healthy French Cuisine in recognition of the Academy Award-nominated movie and "Heart Healthy Meals on a Budget" in acknowledgement of February Heart Month.
Harmon says one of the most popular themes has been Mediterranean Cooking, taught by USC First Lady Patricia Moore-Pastides. "She's undoubtedly the most popular instructor we have," Harmon said.
The First Lady's recipes are drawn from Greek cuisine which includes very little red meat and generous daily servings of antioxidant-rich fruits and vegetables. "I think the two biggest surprises for my students are that Greek food is not as difficult to prepare as they thought, and that healthy food can be delicious," Mrs. Moore-Pastides said.
Harmon says the classes are a wonderful way for people to experiment with different cuisines without an expensive investment in time or money. The classes are not free, but USC works to keep costs at a break-even rate.
For more information about the classes, visit the Columbia Cooking home page or Brook Harmon, 576-5618 or brookharmon@sc.edu.