Troutman completed residency and internship at the Medical University of South Carolina
April 10, 2009
Dr. Adewale Troutman, director of the Louisville Metro Department of Public Health and Wellness, will deliver the second annual James E. Clyburn Health Disparities Lecture on Tuesday, April 21, at the Arnold School of Public Health.
The program, free and open to the public, will be held at 3:30 p.m. in the auditorium of the Public Health Research Center, 921 Assembly St. A reception will follow.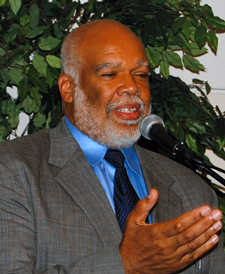 Dr. Adewale Troutman
"Dr. Troutman is one of the nation's leaders in public health," said Dr. Saundra Glover, director of the USC Institute to Eliminate Health Disparities. "He is an advocate for bringing change to improve health, including changing social conditions that often affect a person's ability to change behaviors."
An associate professor at the University of Louisville School of Public Health, Troutman has had a distinguished record of achievement in public health education, research, leadership and advocacy.
In Louisville, Troutman has undertaken new initiatives to improve the health of citizens throughout the area, including the Center for the Elimination of Health Disparities in Louisville, the only such center at a city or county health department in America; the Mayor's Health Hometown Movement, a community effort to encourage Louisville's citizens to be physically active and adopt healthy lifestyles; the Office of Faith and Health to work with the faith community to improve health; and the Office of Emergency and Public Health Preparedness.
Troutman also was instrumental in launching a mobile health unit to extend health services to underserved areas of the community.
Additionally, Troutman received the first annual MediStar Physician of the Year Award, which recognizes outstanding leadership to improve accessibility and affordability of healthcare.
Troutman earned his medical degree from the University of Medicine and Dentistry of New Jersey and completed a residency and internship in family medicine at the Medical University of South Carolina in Charleston.
He earned his master's in public health from the Columbia University School of Public Health and a master's in black studies from the State University of New York.
The Arnold School named the lecture series for Clyburn, South Carolina's Sixth District representative, because his services to people in the Palmetto State and his leadership in the U.S. House have been critical in improving public health.