House Majority Whip share insights on passage of healthcare reform
April 15, 2010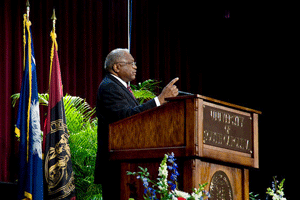 James E. Clyburn

U.S. Rep. James E. Clyburn enjoyed a hero's welcome at the University of South Carolina Friday as an audience stood for one ovation after another for the Sixth District Congressman's key role in the passage of healthcare reform.
Clyburn collected the accolades during his speech at the James E. Clyburn Lecture, an annual event that bears his name. The lecture at the nearly full USC Russell House Ballroom also coincided with National Public Health Week April 5-11.
Clyburn said he has described health care reform as "the Civil Rights Act of the 21st Century" because its provisions reach 45 million persons who have been unable to obtain or afford health insurance.
Efforts by attorneys general in several states to repeal the new law are ill-advised, said Clyburn who, as majority whip, corralled the 216 votes to sustain passage of the legislation in the U.S. House.
The last time similar nullification efforts emerged was following passage of the 1965 Civil Rights Act, which withstood the legal tests and remains in force today.
Taking questions from the audience of mostly young people, Clyburn was quick to point out that some health care reforms are theirs right away.
"Now you can stay on your parent's health care insurance until age 26," he said to applause, adding that all children with pre-existing medical issues are now covered. The process will be gradual -- like the Civil Rights Act -- but it will eventually lead to universal access to health care, he said.
Clyburn's listeners were largely faculty, students and staff from USC and predominantly African-American institutions that included Claflin University, South Carolina State University (Clyburn's Alma Mater), Morris College, Benedict College, Allen University and Lower Richland High School.
The lecture series is joint initiative between Claflin University and the USC Institute for Partnerships to Eliminate Health Disparities led by Dr. Saundra Glover, an associate dean for health disparities and social justice at the Arnold School of Public Health.
In opening remarks, Arnold School Dean Dr. Tom Chandler said health disparities are a main focus of research and teaching efforts. He citied an array of problems -- obesity, diabetes, heart disease and cancer - that plague mostly African-American residents in South Carolina.
The nation's new healthcare legislation is a major step in reducing those disparities, and Chandler praised Clyburn for his stalwart lead in the hotly debated proceedings.
"He fought the good fight. He won that battle," said Chandler.
Glover, whose research interests focus on health disparities and their impact on South Carolinians, said the work will go on throughout the Palmetto State's communities to eradicate health disparities.
"We are our communities," Glover said. "Building a healthy, equitable future for our communities is the true test of our time."
After the lecture, Clyburn met with media and was the honored guest at a reception and scientific poster session featuring health disparities research at the USC and Claflin University.
Arnold School officials say that USC currently has 101 active externally funded projects (research and non-research) related to health disparities, totaling $33.5 million.
Of those efforts, 71 projects totaling $11.2 million were begun in the first 10.5 months of the current fiscal year.
Clyburn did not have time to answer all of the questions from the audience, but a spokesman said the questions and Clyburn's answers will be posted on the Institute for Partnerships to Eliminate Health Disparities website.