Lexington Medical Center Cardiac Rehabilitation Supervisor and Arnold School alumnus earns prestigious cardiovascular honor
July 17, 2015
The below story is republished here from MidlandsBiz.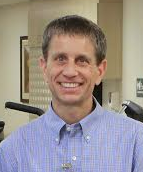 Mark Stout
Mark Stout, program supervisor for Cardiac Rehabilitation at Lexington Medical Center Irmo, has been selected as a Fellow of the American Association of Cardiovascular and Pulmonary Rehabilitation (AACVPR). The organization recognizes excellence, professional achievement and outstanding service in cardiac and pulmonary rehabilitation.
To become a Fellow, applicants must meet criteria including submitting a resume with a record of distinguished service in the field of cardiac rehabilitation, peer recommendations and evidence of a high degree of professional development and commitment. A committee considers each application when selecting Fellowship candidates.
"I am honored to be recognized by AACVPR as a Fellow," Stout said. "It has been rewarding to be able to impact the lives of those with heart disease and their families, and encourage them to make meaningful lifestyle changes that ultimately lead to a better quality of life.
As supervisor at Lexington Medical Center's cardiac rehabilitation program in Irmo, Mr. Stout's primary goal is to help patients recover from cardiac incidents and teach them necessary lifestyle skills to prevent future incidents. That includes exercise, healthy nutrition, smoking cessation, stress management and relaxation training. Mr. Stout provides tools and support to ensure that the hospital's patients have the best possible experience and that the program meets and exceeds national standards.
Statistics show that heart patients who participate in cardiac rehabilitation reduce their risk of mortality by up to 46 percent compared with non-participants. They also reduce their risk of suffering another cardiac incident.
Mr. Stout has worked in cardiac rehabilitation at Lexington Medical Center since 1993. With a master's degree in exercise physiology, he has also served as vice-chair of AACVPR and will become chair in September.
In a letter to Mr. Stout announcing his acceptance as a Fellow, AACVPR stated, "Your service to AACVPR, to your profession and to your affiliate organization, as outlined on your application, sets you apart as a leader and outstanding professional in cardiopulmonary rehabilitation."
Lexington Medical Center has operated a cardiac rehabilitation program for more than two decades at the hospital in West Columbia and at Lexington Medical Center's community medical center in Lexington since 2002. This past spring, the hospital began offering cardiac rehabilitation in Irmo.
Cardiac rehabilitation is one component of Lexington Medical Center's comprehensive cardiovascular care program. Affiliated with Duke Medicine, the hospital offers a full range of cardiac care including open heart surgery and therapeutic catheterizations. Lexington Medical Center is the most experienced facility in the Midlands for transcatheter aortic valve replacement, known as TAVR. This state-of-the-art cardiac technology allows doctors to replace the aortic valve with a catheter instead of open heart surgery. Moreover, the hospital operates an electrophysiology program that treats abnormal heart rhythms and performs procedures that close holes in the heart.
Lexington Medical Center has received full chest pain accreditation with percutaneous coronary intervention (PCI) from the Society of Cardiovascular Patient Care (SCPC). To receive this accreditation, Lexington Medical Center demonstrated its ability to quickly assess, diagnose and treat patients who may be experiencing a heart attack. By becoming an accredited chest pain center, Lexington Medical Center has enhanced the quality of care for cardiac patients and has showed its commitment to the highest standards.