Dorothy Byrden's 'public health career' has spanned much of school's history
June 16, 2010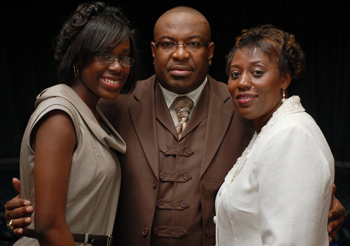 Dorothy Byrden, right, with her husband
Reginald Byrden and their daughter Regan.
This is another feature in a series of reports on the people who have shaped the Arnold School of Public Health as it celebrates its 35th anniversary in 2010.

Dorothy Byrden came to the Arnold School in 1979 as a work-study student and never left.
In the intervening years, she rose through the ranks to become the School of Public Health's administrative manager, married and began a new role as a minster's wife, became a mother, worried through her husband's serious illness, and then faced her own battle against breast cancer. Through it all, she's served four public health deans and a few interim deans.
The average person would probably want to say whew! or how'd she ever do all that? And though Byrden herself admits to wondering how she survived some of challenges that have come her way, those who know her realize that her strong faith, quiet resolve and genuine loveliness have served her well in all facets of her life.
In the summer of 1979, Margaret Thatcher was the new British prime minister, tennis great Martina Navratilova defeated Chris Everet Lloyd at Wimbledon, Jimmy Carter and Leonid Brezhnev signed the SALT I agreement, an oil spill in the Gulf of Mexico created an ecological nightmare along the south coast of Texas, OPEC raised oil prices 24 percent, and "Bad Girls" by disco queen Donna Summer and "My Sharona" by The Knack became No. 1 Billboard hits.
And Byrden, who had grown up in Pinewood, near Sumter, began her "career in public health" as a business school student who was majoring in accounting. The University's work-study office paired her with the newly established School of Public Health. Her office was located on the sixth floor of the College of Nursing, the first home to the school that was established in1975.
It was a good match.
Byrden looks fondly on those days and remembers that "we were a small, close-knit group." She continued her work-study job until graduating from Carolina in December 1982. In January, Dean Winona Vernberg asked Byrden to apply for a job in which she could put her accounting skills to work. Byrden was hired and embarked on a career that has been central to the school's development.
In the 1980s, "we were growing financially and numerically, in terms of faculty, staff and students," she said.
Moving into the Health Sciences Building at the corner of Sumter and Greene streets gave the school more room for that growth. The sigh of relief, however, was short lived. The school would undergo another growth spurt in the 1990s as research became vital to the mission of the University and the School of Public Health.
"That growth brought in more research faculty and employees. We expanded to other buildings, and we experienced a great deal of growth in projects and programs," said Byrden. "It was an exciting time. But in all of our growth, space has always been an issue."
In 1993, the young career woman's life changed dramatically. When an evening at the Koger Center conflicted with her regular Bible study class, Byrden decided to attend a class instead at Brookland Baptist Church. There, she met Reginald Byrden. They married in May 1994, and the couple was led to a life of ministry in October that year.
Today, Reginald Byrden is the pastor of Gill Creek Baptist Church, where Dorothy is the church's First Lady. She has an active role at the church and serves on committees and in other leadership posts as needed.
Yet, her greatest role is that of mother to an active, teen-age daughter Regan, 15, who has been involved in numerous activities, including band and basketball and church youth activities. This fall, Byrden will find herself on the sidelines of Irmo High School football games when her daughter becomes part of the cheerleading team and competition squad.
"I have my hands full," she said.
While some may view the role of pastor's wife as confining, Byrden believes that she has been suited for this job all of her life. Describing herself as "very shy" and "quiet as a church mouse" growing up, Byrden said a college roommate helped "me out of my shell."
Quiet though she may have been, Byrden always had a strong faith and work ethic, honed by her parents, the late Isaiah (Sr.) and Corine Moore who instilled these values in their children. Byrden said her father's career in the logging industry and her mother's career in food service at a Sumter healthcare facility led her to college so that she could pursue her own career. Their insistence, too, that their children be involved in church were vital in helping Byrden ultimately assume the responsibilities of being a minister's wife.
Now, never too shy to help out when needed or called upon by the members of her husband's church, Byrden said her strong faith led her through two particularly difficult times.
From April through August 2001, Reverend Byrden was hospitalized after being stricken with Guillian-Barre Syndrome, an uncommon disorder in which the body's immune system attacks its nerves. Only 1 – 2 people per 100,000 in the United States have this disorder, which can be serious and debilitating. No sooner than her husband had recovered from his disease, Byrden was diagnosed in November 2003 with breast cancer and had surgery and chemotherapy treatments.
"My faith and the support of my family got me through that time – and my family of friends here at the Arnold School helped me tremendously," she said. "We've been challenged as a family, but, through our faith in God, we have persevered."
As she looks back on her years at the Arnold School and her service to four deans, Byrden said each has left an indelible mark on the school and its growth. "Dr. Vernberg was the groundbreaking force of the School of Public Health. She established the school's foundation, and everyone else has built on that."
Dr. Harris Pastides, who was named dean in 1998 and became USC's president in 2008, "was innovative in his thinking and encouraged us to think outside the box … he brought in junior faculty who would be the next educators and researchers."
When Dr. Donna Richter was named dean in 2003, she brought with her an impressive research program in HIV/AIDS education and prevention. "I had worked for her when she was chair of the Department of Health Promotion, Education, and Behavior. She was a people person, very compassionate," Byrden said.
Much like Richter, Dean Chandler was chair of the Department of Environmental Health Sciences when he assumed the school's leadership post. He also brings a background of a strong research program and a clear understanding of the school and its mission, Byrden said.
"He has come at a time when we have been challenged because of the economy, but he is moving us forward and helping us grow, even during this difficult time," she said.
Despite her 27 years at the Arnold School, Byrden isn't thinking about retirement. She's still looking to the future and the continued growth and success of the Arnold School.
"We are still accomplishing so much," she said. "We have grown over the years, yet we still have the same, great values on which this school was founded. We haven't lost our way."