Study involved studying data from exams, treadmill tests at Cooper Clinic in Houston
March 23, 2009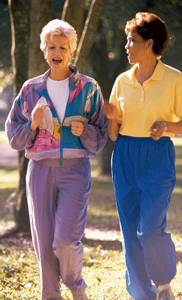 To avoid risk of disease,
women should consider a
program of moderate intensity
exercise, like walking,
over 150 minutes per week.
Aerobically fit women are three times less likely to die of breast cancer than those who seldom exercise, according to a study by researchers at the Arnold School of Public.
The study involved 14,000 women who were given preventive medical exams and treadmill tests at the Cooper Clinic in Houston from 1970-2001. At the time of their exams, the women, ages 20 through 83, had no history of breast cancer.
Based on the treadmill tests, the women's fitness was classified as low, moderate or high. Researchers compared the fitness levels of the 68 women in the study group who had died of breast cancer through 2003.
"Women in the study's lowest fitness category were nearly three times more likely to die from breast cancer than women in the most fit group," said Dr. Steve Blair, a faculty member at the Arnold School's Department of Exercise and a past president of the American College of Sports Medicine.
"The good news is that women who do at least 150 minutes of moderate-intensity activity, like walking, per week will escape the low fitness category," Blair said. "Even better for some women, this activity can be accumulated in 10-minute bouts."
This level of exercise meets the federal "Physical Activity Guidelines for Americans" recommendations, and can be easily achieved in 30 minutes of exercise five days/week.
To develop the highest fitness category in this study, Blair said, women should aim for the "high activity" level recommended by federal guidelines, which includes 300 minutes of moderate-intensity activity, such as walking, over the course of the week. This can be achieved through 150 minutes/week of more vigorous activity, such as jogging or taking an aerobics class.
"With more than 40,000 women dying each year from this disease, finding a strong association between fitness, which can be improved by the relatively inexpensive lifestyle intervention of regular physical activity, such as walking, is exciting," Blair said.
In addition, the study found that women with high aerobic fitness had lower body mass index, better cholesterol levels, lower blood pressure, and fewer chronic conditions such as diabetes and cardiovascular disease.
In addition to Blair, the study involved researchers in several Arnold School departments and related public health centers. They included J. Brent Peel, Xuemei Sui, Dr. Swan A. Adams, Dr. James R Herbert and Dr. James W. Hardin.