Medical authorities say many cases of cervical cancer can be prevented through screening and vaccination
January 9, 2009

A statewide campaign targeting cervical cancer kicks off this month with a bilingual billboard campaign to raise public awareness of the disease that strikes some 200 South Carolina women each year.
South Carolina ranks third in new cases of cervical cancer and eighth in deaths due to cervical cancer. Cervical cancer is a disease for which many cases can be entirely prevented through screening and vaccination.
USC cancer researcher Dr. Heather Brandt is chair of a subcommittee of the S.C. Cancer AIliance that organized the billboard effort in partnership with the USC-Claflin EXPORT Center, South Carolina Cancer Disparities Community Network, and other individuals and groups from across the state.
Brandt said the subcommittee is part of an effort called "Moving to Action: Addressing Cervical Cancer in South Carolina."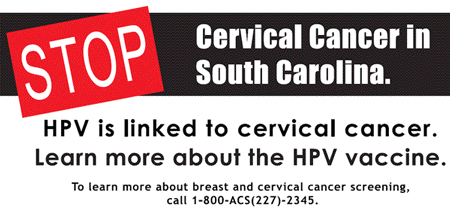 The billboards are on display in January as part of national Cervical Cancer Awareness Month. Funding for them comes from the American Cancer Society, Palmetto Health, and South Carolina Cancer Alliance.
Some 70 billboards, mainly in urban areas of the state, are up featuring a common "Stop Cervical Cancer" theme and individual messages urging women to "Stop Cervical Cancer in South Carolina" by having regular Pap tests, following up on abnormal Pap test results, and learning more about the HPV vaccine.
Brandt said Arnold School students and a recent graduate also are involved in Cervical Cancer Awareness Month activities on the USC campus.
A recent graduate of the exercise science program is canvassing the campus with HPV materials and posters and a doctoral candidate is helping the Thomson Student Health Center prepare a mass mail out on the HPV vaccine.
The subcommittee members also have prepared cervical cancer information suitable for inclusion in church bulletins and a one-page fact sheet. Additional printed materials have been prepared in Spanish.
Brandt said another highlight of the campaign is a special cervical cancer symposium of the Journal of the S.C. Medical Association to be published in October.
The special issue will be similar to the magazine's August 2007 issue that focused on the soaring cancer rate of all kinds among South Carolina's African-American population.
Brandt said a special feature on the issue will be a comprehensive listing of information resources on cervical cancer for health care providers and others.