Thirteen manuscripts assembled from CDC project
September 23, 2009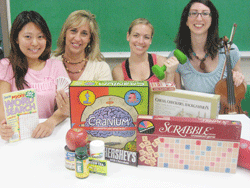 Healthy Brain Tools
Music, exercise, a healthy diet, and puzzles/games may help keep our brains healthy. Here with some samples to make the point are, from left, Rui Liu (EPID/BIOS doctoral student), Dr. Sara Corwin (HPEB), Dr. Anna Mathews (former HPEB student) and Dr. Daniela Friedman (HPEB).
Arnold School faculty members assembled two years of research on the state of the nation's perceptions about cognitive health for a special issue of The Gerontologist, the leading journal on the study of human aging.
The special issue, published over the summer, features 13 manuscripts based on data from a Centers for Disease Control and Prevention funded special interest project entitled "Prevention Research to Promote and Protect Brain Health."
Dr. Daniela Friedman, an assistant professor in the Department of Health Promotion, Education, and Behavior, is principal investigator of the grant which wraps up at the end of this month. Friedman assumed the role of PI in 2008.
The study was led for its first two years by former USC faculty member, Dr. Jim Laditka, now associate professor and director of the Health Services Research Doctoral Program at UNC-Charlotte.
The study was part of the Healthy Brain Initiative, a cooperative research project of the CDC with nine research universities that comprise the Prevention Research Center Healthy Aging Research Network.
USC was the lead center for the study, which also involved scientists from the University of Washington at Seattle; Texas A&M Health Science Center, University of Colorado; University of California at Berkeley; University of Illinois at Chicago; University of North Carolina at Chapel Hill, Charlotte, and Greensboro; University of Pittsburgh and West Virginia University.
Between 2005 and 2007 researchers conducted some 55 focus groups with more than 450 participants from nine states. The diverse participants included older adults (some of whom were experiencing cognitive impairment); individuals caring for family or friends experiencing cognitive impairment; healthcare providers; residents of rural and urban areas; speakers of English, Spanish, Mandarin, Cantonese, and Vietnamese; African Americans; American Indians; Asian Americans; Hispanics; and non-Hispanic whites.
USC research team members and co-authors on The Gerontologist manuscripts include Dr. Sara Corwin (HPEB), Dr. Sara Wilcox (EXSC), Dr. Jim Laditka (now at UNC Charlotte), Dr. Sarah Laditka (now at UNC Charlotte), Dr. Anna Mathews (former HPEB student, now at Furman University), and Rui Liu (EPID/BIOS doctoral candidate).
For more information on the research, see: