Steve Blair has carried torch to improve health through physical activity – now it's on to 2012 Olympic Games
April 23, 2012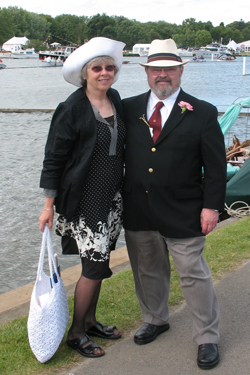 Dr. Steve Blair has been selected to represent
American College of Sports Medicine
as a Torchbearer for the
2012 Olympic Games.

For years, Dr. Steve Blair has carried the torch to promote the importance of physical activity to improve health and prevent disease.
Now, he's been selected to carry a different torch – one that will take him to England just ahead of the opening ceremonies for the 2012 Olympic Games.
On Wednesday, July 11, Blair will carry the Olympic Flame in the area of Reading, England, as one of 8,000 inspirational Torchbearers who are taking the Olympic Flame on its journey throughout the United Kingdom to its ultimate destination in London for the July 27 opening ceremony of the 2012 Olympic Games.
Blair, a professor in the Arnold School's Department of Epidemiology and Biostatistics and Department of Exercise Science, will represent the American College of Sports Medicine as a torchbearer. A past president of the ACSM, Blair was recognized by Coca-Cola North America, one of the Olympic sponsors, for his "leadership in helping others live positively."
"I am honored to have been selected to participate as one of the Torchbearers for the Olympic Games," said Blair. "Although the men and women who participate in the Olympics are elite athletes who are committed to being physically active and embody peak fitness, the Torchbearers represent people who are working to make a difference in the lives of others. Their remarkable stories are inspiring."
Andrew Murphy, 44, who will carry the Olympic torch, is a police officer whose beat is in an impoverished area. Determined to help young people improve their lives and ambitions, Murphy arranges annual football tournaments which bring communities together.
Torchbearer Liana Tolland, 19, went to Uganda in 2010 with a charity to teach for a year and lived without clean water or electricity. She developed acute haemorrhagic pancreatitis which led to kidney failure. Although she is on dialysis and needs a kidney transplant, Tolland hasn't given up her goal of returning to Africa to continue the work that she started.
Skating enthusiast James Threlfall, 18, holds a skate competition, known as the Wiltshire Skate Series, and has a skate school in which he teaches people the basics of skating. He's working to give young people a drive to succeed and to have fun in a great sport. And Daphne Edwards from the Stonehouse Wheelers Cycling Club started cycling when she retired at age 60. Now in her 70s, Edwards is inspiring others to take to the road on two wheels -- regardless of their age or ability.
"Many outstanding people are serving as torchbearers, and their achievements make me proud to be part of this group," said Blair, who travels the world to promote physical activity and is widely regarded as one of the world's leading contributors to epidemiological research that links physical fitness with numerous health benefits and decreased mortality.
"Physical inactivity is perhaps the greatest public health problem of the 21st century", according to Blair; and "it deserves much more attention from public health authorities. We must develop new and innovative approaches to get more people physically activive, in order to reduce the burden of non-communicable chronice diseases such as cardiovascular disease, cancer, and type 2 diabetes".
Dr. Tom Chandler, dean of the Arnold School, said Blair's selection to carry the Olympic Flame brings distinction to the Arnold School of Public Health and the University of South Carolina.
"This is a proud moment for all of us who know Dr. Blair. His research on the value of physical activity across the lifespan is changing the lives of children and adults every day," Chandler said. "Dr. Blair's profound influence on a new generation of educators, researchers and professionals will impact public health for many decades to come."
Blair recently was awarded the inaugural Bloomberg Manulife Prize for the Promotion of Active Health from McGill University in Montreal, Canada. Created by Toronto financier Lawrence S. Bloomberg, the Bloomberg Manulife Prize recognizes research that has the potential to broaden understanding of how physical activity, nutrition or psychosocial factors influence personal health and wellbeing.
Blair has been an adviser to government agencies and health organizations, published more than 500 scientific papers and book chapters, and is one of only a few people outside of the U.S. Public Health Service to receive the U.S. Surgeon General's Medallion. In 2010, Blair received the 2010 Folksam Prize in Epidemiological Research. The award was presented at an installation ceremony at the Karolinska Institute in Stockholm, Sweden. The Institute is considered one of the world's leading medical universities. He also has been honored by selection for honorary doctoral degrees from universities in the United States, Belgium and England, and he has received major awards from the American Heart Association and the American College of Sports Medicine.
A You Tube video that has been viewed by nearly 2.8 million people -- titled "23 and ½ hours: What is the single best thing we can do for our health?" -- discusses Blair's research findings that only 30 minutes a day of physical activity will significantly improve fitness and overall health.
About the Olympic Flame for the 2012 Olympic Games
The Olympic Flame will come within 10 miles of 95 percent of people in the United Kingdom, Isle of Man, Guernsey and Jersey. It will enable local communities to shine a light on the best their area has to offer – including celebrations of local culture, breathtaking landscapes and dynamic urban areas.
Go to http://www.london2012.com/olympic-torch-relay-map to view the interactive map showing each of the 1,019 communities where the Olympic Flame will travel.