Posted 11/07/2006

Arnold School of Public Health welcomes returning exercise guru Dr. Stephen Blair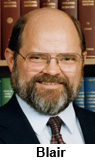 Along with dedicating its new research center this fall, the Arnold School of Public Health is marking the return of Dr. Steven Blair, a former faculty member and internationally recognized authority on exercise and its health benefits.
For the past 22 years, Blair has worked first as a researcher and then as president and CEO of the Cooper Institute. Based in Dallas, the institute is a nonprofit research and education center recognized as a leader in exercise science.
During his tenure at Cooper, Blair did extensive research using the Aerobics Center Longitudinal Study (ACLS) which examines the impact that diet, physical activity and other lifestyle factors have on mortality.
The ACLS database, the largest of its kind, is based on objective measures of fitness collected on more than 80,000 patients at the Cooper Institute since 1970, Blair said.
The returning professor, who has joint appointments in the Department of Exercise Science and the Department of Epidemiology and Biostatistics, has a copy of the database that he plans to use in his research programs at USC.
Blair says he's delighted to return to the campus where he first came to work in 1966 as a PE instructor, working out of a room over the gym in Wardlaw College.
While the Cooper Institute was a fine facility, Blair looks forward to working at the new research center at the Arnold School and the support of an array of academic talent at USC.
"I'm coming back to a place that I know very well and some of the people like Russ Pate, who is one of my closest friends," Blair said. Pate is an internationally recognized exercise physiologist, recently named USC associate vice president for health sciences.
"Then there's a little fellow named Jaxson Woodrow Kennedy who lives up between Laurens and Greenville. My 21-month-old grandson," he said.
Blair says he also hopes to devote some time to public health issues particularly in light of a newly announced effort by the U.S. Department of Health and Human Services to develop comprehensive physical activity guidelines.
HHS Secretary Mike Leavitt said last month that the guidelines will be issued in 2008, as part of creating a "culture of wellness across America."
The guidelines are long overdue, said Blair, and there is a great need to have a process similar to the dietary guidelines, which are issued every five years. The physical activity guidelines can form the foundation for the development of a national physical activity plan, noting that the United States is one of the few industrialized countries without such a plan.
"From my research and a lot of others, physical inactivity is one of the biggest public health problems we have. Inactivity and low fitness are powerful predictors of morbidity and mortality for millions of Americans," he said.
The exercise guidelines will be based on the best scientific findings on physical activity, something that Blair's research has documented extensively.
Blair said he is preparing to publish the results of a five-year exercise study involving a group of postmenopausal, moderately hypertensive, sedentary women who were tested at different levels of exercise.
"We pretty much know that exercise is good for you, but how much is really required to have any benefit? Is it the public health consensus rate – 30 minutes of moderate intensity five days per week? Well, suppose you do half that. Do you get any benefit? Well, nobody knew," Blair said.
The women were tested at 50, 100 and 150 percent of the consensus exercise recommendations. The results indicated that even a little exercise goes a long way.
Even performance at 50 percent of the recommended exercise levels produces "significant physiologic adaptations that are healthy. So that's good news," Blair said.
Blair's return to USC adds strength to the already notable exercise science program at the Arnold School. Blair and Pate are former presidents of the American College of Sports Medicine (ACSM). Dr. Larry Durstine, chairman of the Department of Exercise Science, is the current president of ACSM.
Blair currently is executive lecturer in the Department of Kinesiology, Health Promotion, and Recreation, University of North Texas. He also is an Adjunct Professor in the School of Public Health at the University of Texas Health Science Center at Houston and the College of Education at the University of Houston.
He is a Benjamin Meaker Fellow at the University of Bristol, England. He is a fellow in the American College of Epidemiology, Society for Behavioral Medicine, American College of Sports Medicine, American Heart Association, and American Academy of Kinesiology and Physical Education; and was elected to membership in the American Epidemiological Society.
Blair is a past-president of the National Coalition for Promoting Physical Activity, and the American Academy of Kinesiology and Physical Education.
He is the recipient of three honorary doctoral degrees--Doctor Honoris Causa degree from the Free University of Brussels, Belgium; Doctor of Health Science degree from Lander University, U.S.; and Doctor of Science Honoris Causa, University of Bristol, UK.
He has received awards from many professional associations, including a MERIT Award from the National Institutes of Health, ACSM Honor Award, Robert Levy Lecture Award from the American Heart Association, and is one of the few persons outside the U.S. Public Health Service to be awarded the Surgeon General's Medallion. He has delivered lectures to medical, scientific, and lay groups in 48 states and 30 countries.
His research focuses on the associations between lifestyle and health, with a specific emphasis on exercise, physical fitness, body composition, and chronic disease.
He has published over 360 papers and chapters in the scientific literature, and was the senior scientific editor for the U.S. Surgeon General's Report on Physical Activity and Health.
He also is the author, editor or coeditor of several books, including Fitness After 50, Active Living Every Day, and Physical Activity and Health.