Atkinson heads WakeMed, one of N.C.'s top health care providers
June 8, 2009

William K. Atkinson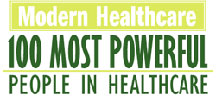 Dr. William K. Atkinson, an Arnold School graduate and Raleigh, N.C. hospital executive, has been identified as one of the "100 Most Powerful People in Healthcare" by Modern Healthcare, the industry's leading source of healthcare business news.
Atkinson, president and CEO of WakeMed Health and Hospitals, was nominated by Modern Healthcare readers who also will select a top ten list of finalists in the annual competition. The full list of nominees is available at ModernHealthcare.com.
A Greensboro, NC, native, Atkinson earned a earned a bachelor's degree from UNC-Greensboro and a master's degree in 1981 from the Arnold School's Department of Health Services Policy and Management. He also has a master's degree and a doctorate from the University of Colorado in Denver.
He is a graduate of the Executive Management Program of Yale University. Dr. Atkinson is a Fellow of the American College of Healthcare Executives and holds adjunct faculty positions in the Schools of Global Public Health and Medicine at the University of North Carolina at Chapel Hill. He is a member of the North Carolina State University's Kenan Fellows Board of Advisors.
Dr. Atkinson has more than 25 years experience as a hospital president and chief executive officer in rural and urban settings in several states. He is only the third CEO in the 48-year history of WakeMed, a private, not-for-profit multi-hospital system and one of the top health care providers in the state.
Atkinson came to WakeMed in 2003 after serving as chief executive of New Hanover Regional Health Network in Wilmington since 1997. He already had established a reputation for initiative and hard work, telling The Wilmington Star-News that sleep is "physiologically necessary, but a real waste of time."
He is a delegate of the American Hospital Association's Regional Policy Board 3. He currently serves as chair of the Research Triangle Regional Partnership and the Greater Raleigh Chamber of Commerce. He also serves on the boards of the North Carolina Chamber, Wake Technical Community College and is a commissioner with the North Carolina Health & Wellness Trust Fund.
Dr. Atkinson has served as chairman of the North Carolina Institute of Medicine, North Carolina Hospital Association and the North Carolina Center for Hospital Quality and Patient Safety. He also co-chaired with Ann Goodnight the successful Friends of Wake County $1 billion school bond drive.
He co-chaired North Carolina's WorkFirst Business Council. He continues to believe in the importance of economically healthy communities as the foundation for healthy residents.
In 2008, Dr. Atkinson was named 2008 Impact Healthcare Leader and inducted into the Business Leader Triangle Hall of Fame. He also was named the 2007 Business Leader of the Year by Business Leader Magazine and Who's Who 2006 by Metro Magazine. He received the American Red Cross Humanitarian Award in 2007.
He is the 2004 recipient of the James O. Page/JEMS International Leadership Award for contributions to emergency medicine. He has also received the North Carolina Hospital Association's Distinguished Service Award, the Leader of the Year Award from Leadership Raleigh and was honored by the Alice Aycock Poe Center for Health Education with the Gordon Smith, Jr. Award.
He is recognized nationally for his leadership in disaster preparedness and response, emergency medical services, workforce development, and for his work in reducing gang activity. He lectures frequently on innovation diffusion in healthcare, science, education and public policy.