No 'long shot': After working with USA Shooting team, Cathy Arnot is part of U.S. medical staff at Olympics
July 18, 2012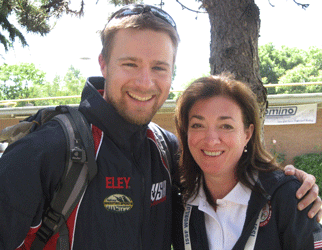 Dr. Cathy Arnot of the Arnold School is shown with two-time
Olympic Medalist Matt Emmons, who will represent the
United States on the USA Shooting team. The photograph
was taken at the World Cup shooting competition
in Milan, Italy.
Dr. Cathy Arnot's travel diary reads like a promotional flyer for a travel agency: Italy, Cyprus, Thailand, Greece, Germany, China, Spain, Serbia, Korea, Slovenia, Australia, Poland, and Mexico.
Since 2003, the Arnold School of Public Health physical therapist has traveled with the USA Shooting team to many cities abroad – and also to cities throughout the United States, too.
But it's her expertise in physical therapy that has become so recognized and respected that Arnot has been selected by the U.S. Olympic Committee (USOC) Sports Medicine Division to serve as a member of the U.S. medical staff for the 2012 Olympic Games in London. Assigned to USA Shooting, she will provide care and be on-call for the athletes 24 hours a day.
Arnot, a clinical assistant professor in the Physical Therapy Program of the Department of Exercise Science, said that when the letter arrived announcing her selection that she hesitated at first to tell anyone. "I was afraid that I might jinx the invitation," she said. "It is a once in a lifetime opportunity."
Her work with USA Shooting, which comprises athletes on rifle, shotgun and pistol teams, began in 2003 when she was selected to work with the team for the World Cup (shotgun) in Lonato, Italy, and the World Cup Final (shotgun) in Lanarca, Cyprus. Since then, as her passport shows, she has traveled the world with the USA Shooting team, including the Pre-Olympic World Cup (shotgun, rifle and pistol) in Beijing, China, in 2008.
In 2011, she was a medical volunteer for the Pan Am Games, which is considered "the Olympics" for the Americas. Most recently, she was in Milan, Italy, for the World Cup (rifle and pistol).
She leaves July 20 for a training camp in Copenhagen, Denmark, and will arrive in London on July 25, just ahead of the July 27 Opening Ceremony for the Olympic Games. The first competition for USA Shooting is July 28 when the women's air rifle team will compete.
Her schedule in London is demanding. The USA Shooting Team qualified for 21 Olympic events during 2010 and 2011, and their demanding competitions and practices can lead to injuries related to an athlete's positioning, including problems with the neck, shoulder and back, as well as hip, knees and elbows, said Arnot, who will be housed in the Olympic Village with the female members of USA Shooting.
Some injuries can be the result of training , while others are new injuries sustained during the competition. "We have to be prepared for whatever occurs," she said.
Working with the athletes is both professionally and personally rewarding, Arnot said.
"You know how serious the competition is for them and how important your work is in helping them compete," she said. "When an athlete thanks you after they have received a medal, it is very gratifying, and you do feel that you are part of Team USA. They make you proud."
Shooting is a popular sport overseas. And, when they travel abroad, members of the USA Shooting Team are often recognized and given celebrity treatment. "The guys are like rock stars," she said. "They may not be as visible in the United States, but they are recognized throughout the rest of the world."
Despite the seriousness of the competition, Arnot said the team is known for playing pranks. "You don't leave your camera or your laptop unattended."
Returning Olympians include Kim Harryman, who is making her fifth appearance at a U.S. Olympic competition. If she wins a medal, she will be the only U.S. athlete to earn a medal at five consecutive Olympic games. Matt Emmons earned a gold medal at the 2004 Olympic Games in Athens, Greece, and a silver medal in Beijing.
"The USA Shooting Team is a fantastic, tight-knit organization," Arnot said. "They are a great group of people, and I am looking forward to watching the competitions as much as I can."
Arnot joined the Arnold School faculty in 2006 after working as a physical therapist in area hospitals and health care facilities. She served in the U.S. Army and earned the Army's Meritorious Service Medal in 1993 and Commendation Medals in 1991 and 1993. She also earned U.S. Army Achievement Medals in 1990 and 1992.
After earning a bachelor's degree in exercise science from Virginia Tech, she earned a master of physical therapy degree from Baylor University and a doctor of physical therapy degree from the University of St. Augustine Institute of Physical Therapy. She was chief of physical therapy at Lyster Army Community Hospital at Fort Rucker, Ala.