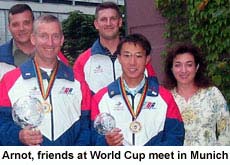 Shooting is a sport where perfection is the benchmark, something that Cathy Arnot knows well. That's also why she carries a dog-eared passport.
Arnot, who teaches physical therapy in the Arnold School's Department of Exercise Science, has worked with the U.S. Olympic Shooting teams for the past three years providing manual physical therapy interventions to team members.
Following the team on its championship quests has taken Arnot to Greece, Cyprus, Thailand, Italy and China. Germany has been on her itinerary three times.
"The shooters are all professional. They're very appreciative of anything you can do for them," said Arnot, who has worked with team members at the Olympic Training Center at Ft. Benning, Ga. and elsewhere in the U.S.
Arnot said Olympic class shooters train on an average of three to eight hours per day, assuming stances that stress a variety of muscles depending on the weapon.
Put in technical terms, Arnot says most of the cases she works with involve overuse injuries to the cervical, thoracic, lumbar spine and upper extremities.
Put in simpler terms, "pistol shooters have problems with the neck, shoulder and elbows,'' she says. Standing positions expose rifle shooters to problems with lower back and wrist pain.
The recoil from 12 gauge rounds stresses the shoulders of shotgun shooters. Team members also can end up with physical complaints from the extensive travel involved in international competitions.
Arnot says she enjoys recreational shooting with her .22 pistol and would love to learn how to shoot trap. However, she had no experience with competitive shooting until she joined a post doctoral fellowship at SportsMedicine of Atlanta in 2002.
There she was part of a program to assist shooters directed by Bob DuVall, physical therapist to the 1996, 2000 and 2004 U.S. Olympic Shooting Teams.
She and DuVall are still linked because he is responsible for scheduling her Olympic efforts, which she estimates will involve about five weeks of travel this year.
USC considers her Olympic work as part of the university's outreach efforts, but she has to schedule trips so as not to conflict with her teaching duties.
Arnot says U.S. shooters have the same problems as other Olympians in international competition.
"China and Russia are our biggest competitors. They have an advantage because their shooters are government funded and don't have to worry about things like school or careers like our team members," she said.
Competitive shooting also can be expensive, according to Arnot, adding that hundreds of rounds of ammunition can be expended in practice. Some weapons can be costly. World-class trap guns can retail from $1,800-$8,000, air rifles can go as high as $2,000 and pistols can fetch up to $1,400.
Arnot is a Virginia native who received her bachelor's degree from Virginia Tech. She earned her master's degree through the U.S. Army/ Baylor University Physical Therapy Program and her doctorate from the University of St. Augustine for Health Sciences. She joined the USC faculty fulltime in February 2006.
For more information:
USA Shooting -- The National Governing Body for Olympic Shooting Sports.