Four undergraduate students represent the Arnold School of Public Health as ambassadors for USC
January 23, 2015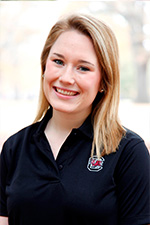 Jenna Goeller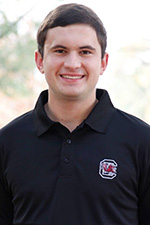 Ross Lordo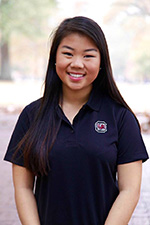 Hope Woolf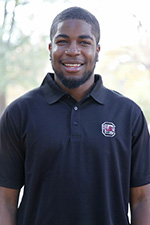 Joseph Okafor
"I love that every time I have a shift at the Visitor Center, I learn something new," says Jenna Goeller, a second-year student majoring in public health. She enjoys that her role as ambassador leads her to interesting conversations with prospective students or fellow ambassadors--conversations that broaden her perspective and help her learn new things. Goeller is one of four Arnold School undergraduate students who currently serve as ambassadors for the University of South Carolina.
A student organization, University Ambassadors hold open the "front door" of the university to prospective students, donors and other interested guests. Using the Visitor Center as their home base, these students serve as tour guides for visitors, representatives at presidential functions and hosts at university open house events.
With a 13 percent acceptance rate, only the most promising students are selected to serve as ambassadors after completing the intense interview process. Goeller, who is also involved in student government, serves as Safety and Wellness Chairwoman for her sorority in an effort to align her extracurricular activities with her course work in public health.
First-year students, Ross Lordo (exercise science) and Hope Woolf (public health), and third-year student Joseph Okafor (public health) have immersed themselves in university activities as well. Lordo has joined Freshman Council and works in the breast cancer research laboratory at the USC School of Medicine. Woolf works at the Student Success Center and plays the clarinet in the Carolina Band, and Okafor is a member of the Carolina Judicial Council.
Their passion for the university they love to represent extends to the Arnold School as well. All four of our ambassadors value the opportunities provided by the Arnold School. Woolf and Lordo plan to leverage  their undergraduate degrees into dental and medical careers, respectively. Okafor would like to pursue pharmacy school or a career at the CDC. Goeller's plans are less definite, and she's okay with that. Goeller is excited about earning a degree from a prestigious public health program and taking advantage of the internship connections one encounters when studying in South Carolina's capital city. 
"At this point I can't decide how to narrow my scope because each route I could take would be equally rewarding," Goeller says. She might further her education with a graduate degree in epidemiology or attend law school in order to practice medical ethics. She's also interested in public health policy to reform the healthcare system and eliminate health disparities. "I love the idea that public health is this huge overarching umbrella, trickling down to the specifics that affect our everyday lives," Goeller explains. "Whether it is the achievement of successful vaccinations and the eradication of certain diseases or the importance of food safety, there's always progress to be made."
"Who doesn't want to help make the world better or prevent disease?" Woolf adds. Regardless of how their plans evolve, the university and the Arnold School are here for them. "I feel if I need to change paths at any time, I have five more doors I can open thanks to all of the help and support," Woolf says. Okafor agrees. "Besides the opportunities being endless, the faculty and staff are all so willing to help," he says. "They have so many connections that can help you narrow down what exactly you want to do with your degree."
These four students are extending this cycle of support through their ambassador work. Each of them professes a desire to best represent the university they love so much, serving as confidants for prospective students and inspiring visitors through their own stories.