Arnold School alumnus and S.C. Campaign to Prevent Teen Pregnancy CEO Forrest Alton shares 2014 teen birth data
December 14, 2015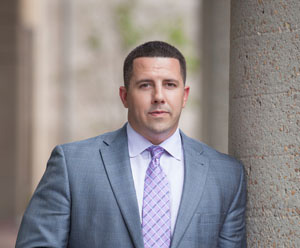 Forrest Alton
The South Carolina Campaign to Prevent Teen Pregnancy (S.C. Campaign) released a statement on December 8 that reports the teen birth rate in S.C. has declined 61 percent since peaking in 1991, with the largest drop (10 percent) occurring between 2013 and 2014. This overall decrease was most significant among 15-17 year-old African Americans whose birth rates decreased by 77 percent over the nearly 25-year period.
Though they credit these decreases to the efforts of communities across the state, the S.C. Campaign has led the charge in this endeavor and remains the only organization in S.C. to work with all 46 counties to reduce teen pregnancy since it was founded in 1994. Forrest Alton, who has led the S.C. Campaign as the Chief Executive Officer since 2007, has been dedicated to the organization since he joined it as a graduate assistant during his Master of Public Health program at the Arnold School in 2002.
"The only reason I ended up at the S.C. Campaign 15 years ago was because of the connections I made at the Arnold School," Alton says. "One of the things that makes me most proud is that pipeline of graduate and post-graduate public health students contributing to the field of teen pregnancy prevention is still alive and well today."
Even before his 2004 graduation with a concentration in Health Promotion, Education, and Behavior, Alton had already moved up to become the Director of Youth Services at the S.C. Campaign. He was quickly promoted to Associate Director and later Executive Director before serving in his current role. His commitment for this critical public health issue began even earlier, however, when he served as a program manager for a teen pregnancy prevention program in Georgetown.
During the past decade, Alton has been recognized by The State as one of S.C.'s "20-under-40 emerging leaders" and by The Free Times as one of the "50 Most Influential People in Columbia." He is also a Liberty Fellow and a Riley Institute Diversity Fellow. In 2008, Alton was honored by his undergraduate alma mater, Coastal Carolina University, as a Distinguished Alumnus. In 2011, Alton received the Gerry Sue Arnold Alumni Award for engaging in work that has made a difference to the profession and in the health of an identified community or population.
Alton's work at the S.C. Campaign has certainly made a difference. Efforts to reduce teen pregnancy have been particularly successful among younger teens—those 17 and younger—and the drop in teen pregnancy overall is substantial. Yet the work continues as Alton notes that the 18-19 year-old age group remains at an elevated risk, making up 73 percent of all teen births in S.C. Other disparities, such as higher rates among teens in certain geographic areas and for those who are a part of state systems (e.g., juvenile justice, foster care), persist as well.
"We are beyond excited to see teen birth rates continuing to decline, but we also understand the complexity of this issue and know we have a lot of work left to do. There were nearly 4,300 births to teenage mothers last year," says Alton. "To think we have this problem solved is short sighted. Now is not the time to cut back prevention efforts. Instead, we need to refocus our efforts and target our resources to maximize impact."