In the limelight: Researcher's interests in obesity, physical activity are showcased on PBS program
February 5, 2013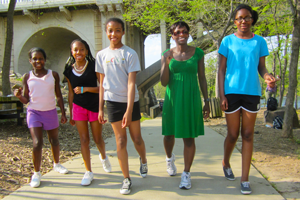 Dr. Daheia Barr-Anderson (green
dress) leads Columbia's "SciGirls"
along the Congaree River for a brisk walk.
Let's hear it for the girls – the SciGirls!
A program for PBS Kids, the SciGirls features Dr. Daheia Barr-Anderson of the Arnold School of Public Health and four students from Dent Middle School. The episode is called Workin' It Out, and the 30-minute program is fun, fast-paced and educational.
Barr-Anderson was on the faculty at the University of Minnesota when the Minneapolis Public Television station approached her last year about a segment on physical activity for the SciGirls show. By the time the plans were made early in 2012, Barr-Anderson had joined the faculty in the Arnold School's Department of Epidemiology and Biostatistics. The program's producers remained committed to the project, and filming was scheduled for April in Columbia.
"The program aims to introduce girls to science in a fun and interesting way," said Barr-Anderson who earned her master's degree in epidemiology from the Arnold School. "I have a special interest in obesity and physical activity among adolescent girls. The program was a good fit with my research."
SciGirls aims at helping "tween girls" discover how science, engineering and technology play a role in their everyday lives. The goal is to enhance their knowledge in these areas and encourage them to pursue careers in the sciences, she said.
In the segment, Errin, Naialah, Jekima and Jasmaine are given the challenge to find activities that would most interest girls, participate in these activities and measure their movement with accelerometers. The "SciGirls" from Columbia, who are filmed in activities on the University of South Carolina campus and throughout the city, chose walking, soccer, yoga and hip hop dance as the activities that they wanted to test.
"Throughout their week, their goal was to determine which of the activities would "best for fun and likability and best for health benefits," she said.
They found that yoga was more challenging than they realized, said Barr-Anderson who also surprised them with the intensity of their walk along the Congaree River.
"They thought walking would be easy. But I led them on the walk, and the walk that they did with me was hard. I wanted to show them that walking can really increase your heart rate and that you can reap similar health benefits as basketball or volleyball ," said Barr-Anderson, who maintains her slender frame through running and hot yoga.
Arnold School staff member Kerry McIver was involved in interpreting the accelerometer data for the girls and with providing scene suggestions for the production team.
"At the end of the week, the girls discovered that they loved soccer and hip hop dance. The opportunity to test the different activities made them think about physical activity in general and its importance in their lives. It also gave them the interest in trying something new," she said.
Research has shown that girls' interest in physical activity begins to decline in the middle school years and drops even more in high school. The lack of interest in activity may be caused in part because "tween girls" are becoming focused on their physical appearance.
Girls simply don't want to sweat or mess up their hair in physical activity and physical education programs at school. "Appearance and what your peers think are really important to many middle schoolers. Sweating isn't cool, which means being physically active may not be at the top of their list of things to do," Barr-Anderson said. "This also is why some girls are less interested in team sports, either."
Barr-Anderson grew up in Marion, S.C., and graduated from Marion High School. After earning her bachelor's degree in biology from Winthrop University, she came to the Arnold School for her master's degree and then earned her doctoral degree in kinesiology from the University of Maryland, College Park. From 2006 – 08, she was at the University of Minnesota's School of Public Health for a post-doctoral fellowship.
The mother of two toddlers and the wife of Rodney Anderson, whose job with Michelin requires extensive travel, Barr-Anderson said she realizes that it can be a struggle for families to help their children keep a regular schedule of activity.
"My children get activity through their school. If they depended on me solely for their activity, there could be days when they don't get the required amount of physical activity," she said. "It's difficult for families to fit activity into days when they have to get home, have dinner, get homework done. Activity is one more thing to plan."
Barr-Anderson said she was attracted to the faculty position at the Arnold School because of the opportunity to work with faculty members Dr. Russ Pate and Dr. Steve Blair and others in the departments of exercise science and epidemiology and biostatistics. "I work with the best experts in the world. They have done and are continuing to do groundbreaking research and are committed to teaching the next generation of scholars," she said. "I am excited about the opportunities here."
Visit http://pbskids.org/scigirls/video to catch other all new SciGirl episodes and Workin' It Out. Find out what Columbia's SciGirls discovered and what other SciGirls have been investigating!