C'iana Cooper's study of epilepsy earns national attention
July 28, 2014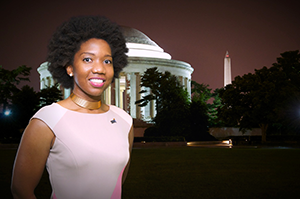 Doctoral student C'iana Cooper of the Department of Exercise Science has received a prestigious award
from the UNCF Merck Science Initiative to support
her research on epilepsy.
C'iana Cooper, a doctoral student in the Arnold School's Department of Exercise Science, is the recipient of a prestigious dissertation research award from the UNCF Merck Science Initiative.
Cooper, who attended schools in Fort Valley, Ga., earned a bachelor's degree in biomedical engineering from the Georgia Institute of Technology. Interested in the impact of physical activity on the functions of the brain, Cooper began searching for graduate school programs that would enable her to conduct research in her areas of interest.
"I found that the Arnold School does this type of research, and the school's researchers are the best in nation, if not the world," she said. "Divine intervention brought me here."
The UNCF-MERCK Science Initiative (UMSI) is a partnership of UNCF (the United Negro College Fund) and global health care industry leader Merck. The 2014 scholarships have been awarded to 37 of the country's most accomplished and promising African-American undergraduate, graduate, and post-doctoral students of biological science and engineering.
Cooper is one of only 12 graduate students in the nation to receive a dissertation fellowship through this program. The award enables graduate students to receive up to $53,500, which includes both a stipend and funds for the research needs of the student.
At the Arnold School, Cooper is part of the successful Behavioral-Biomedical Interface Program (BBIP), a joint initiative of the Arnold School and the College of Arts and Sciences. Designed to enhance doctoral education, BBIP operates in conjunction with doctoral programs in epidemiology, exercise science and psychology.
"Becoming a part of the BBIP program meant that I had the freedom to pursue my goals in an unconventional way. The program provided me with financial support so that I may rotate throughout neuroscience labs and take neuroscience courses," Cooper said. "Ultimately, it is through this program that I found my current lab and began research in epilepsy.
Cooper's dissertation will focus on how specific receptors in the brain impact epilepsy, which affects about 2.3 million Americans. Children and adults with epilepsy have recurring seizures triggered by abnormal electrical activity in the brain. The seizures are triggered by abnormal electrical activity in the brain that results in involuntary changes in body movement, behavior and sensation. Sometimes, seizures cause loss of consciousness and even can be life-threatening.
A seizure has been attributed to the July 19 death of actress Skye McColl Bartusiak, who had suffered from seizures all of her life.
"Currently, I have joint advisers with Dr. Larry Durstine in the Exercise Science department at the Arnold School and Dr. David Mott in the Pharmacology, Physiology & Neuroscience department at the School of Medicine," said Cooper.
Their mentorship has been instrumental in my development as a scientist and is a primary reason for any success I've had thus far."
"The outcome of this research could lead to novel drug mechanisms for the treatment of epilepsy," said Cooper. "Epilepsy can be a debilitating problem for many people, and new treatments could offer hope to those for whom traditional measures don't work."
Cooper described the dissertation award as "a really big honor."
At a recent research conference, she said, "I met amazing people doing amazing science. I asked myself, 'how did I get here?' "
The answer lies in the fact that Cooper research already has attracted the attention of  "amazing people" who see the value of her work and her dedication to her field of study.