Nanoscience researcher named to impressive list of investigators
June 9, 2014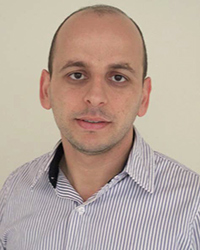 Dr. Mohammed Baalousha joined the Arnold School's faculty in January and is featured in prestigious journal for his nanoscience research.
When Dr. Mohammed Baalousha joined the Arnold School of Public Health faculty in January, his arrival could be considered a major move.
Not only was he bringing his young family from England to the United States, but the family was expecting a baby in the spring. Within the span of only a few months, Baalousha had changed jobs, established a new home on a different continent, became the father to a second beautiful daughter in April – all while establishing his research lab within the Environmental Nanoscience and Risk Center of Economic Excellence, which is part of the SmartState™ program funded by the S.C. General Assembly.
Then, just this month, Baalousha became one of only 19 researchers in the world to be named an "Emerging Investigator" by the journal Environmental Science: Processes & Impact, published by the Royal Society of Chemistry.
Baalousha earned a bachelor's degree in civil engineering from the Islamic University of Gaza, Palestine, in 2001. He then completed a master's degree in applied mechanics in 2002 and doctoral degree in environmental biochemistry in 2006, both from the University of Bordeaux, France. He then was named to several post-doctoral research positions in the area of environmental nanoscience at the University of Birmingham in the United Kingdom.
His colleague at the University of Birmingham was Dr. Jamie Lead, who came to the Arnold School in 2012 to establish the Environmental Nanoscience and Risk Assessment Center of Economic Excellence at the University of South Carolina. Lead recruited Baalousha to join the center's faculty.
Baalousha's interest in nanoparticles, nanomaterials and nanotechnology was not a leap from his early work in civil engineering. "I knew from my background in engineering and my studies in nanoscience that wastewater, landfills, storm water and other environmental factors affect how nanomaterials are transported in the environment and their potential impact in the future, I am developing ways to measure and predict what happens to nanomaterials and what they do to organisms living in these systems" he said.
His current research interests focus on understanding nanoscale phenomena in the environment, including an understanding of the fate, behavior and transformations of nanomaterials in the environment, their interaction with natural nanomaterials and their impact on conventional contaminants; developing new analytical approaches to measure nanomaterials in the environment; and understanding the potential environmental health concerns of manufactured nanomaterials.
"My work impacts public health, particularly potential toxicity that can affect the health of humans and the environment," said Baalousha, an assistant professor in the Arnold School's Department of Environmental Health Sciences.
"I believe that the work that we are doing will contribute to the health and well-being of people," he said.
In an interview with the journal, Baalousha point s out that environmental science researchers are well-positioned to work in a variety of areas that can impact health.
"Environmental health is a highly interdisciplinary field, requiring collaborative effort among scientists in different scientific disciplines and in particular at the boundaries of conventional scientific disciplines," he said.
"Thus, key ingredients for success in environmental science would be developing an in-depth understanding and world-class expertise in a focused research area, developing a wide understanding of other areas where your expertise can be utilized, and establishing a good professional network of scientists to collaborate with."
Already, Baalousha is discussing a research project in the Department of Biological Sciences that will examine the potential uptake of nanoparticles in plants.
And in his spare time, he and his family are learning about life in Columbia and South Carolina. "It's difficult to travel too far with young children," he said. "But we are getting adapted, and we will spend time exploring more of the area around us as the children get older."