Clyburn Health Disparities Lecture highlights inequities and opportunities for change to improve public health
April 16, 2014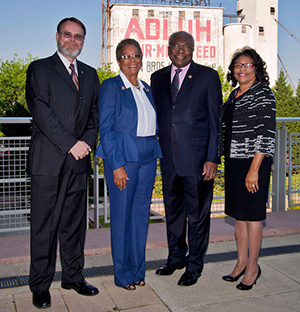 Photographed in front of Columbia's iconic Adluh Flour Mill are Dr. Tom Chandler, dean of the Arnold School
of Public Health; Dr. Donna M. Christensen, D-Virgin Islands, guest speaker; Congressman Clyburn; and Dr. Saundra Glover, director of the Institute for Partnerships to Eliminate Health Disparities and a professor in the Department of Health Services Policy and Management.
Despite advances in health care, "severe health disparities remain … including too many in South Carolina."
Dr. Donna M. Christensen, D-Virgin Islands, the featured speaker for the 7th annual James E. Clyburn Health Disparities Lecture, said passage of the Affordable Care Act is only the beginning of the work needed to end inequities in health status faced by many minorities in the Palmetto State and throughout the nation.
The program's theme "Moving Forward: Making the Affordable Care Act Work through Research, Education and Community Engagement" examined the health disparities that exist throughout South Carolina, as well as the opportunities offered by the new legislation to expand the affordability, quality and availability of private and public health insurance through consumer protections, regulations, insurance exchanges and other reforms.
The first female physician to serve in the U.S. Congress, Christensen has "walked the walk in public health," said Dr. Tom Chandler, dean of the Arnold School of Public Health. "She has seen first-hand the many problems that occur when people don't have access to care and the services needed to prevent and treat diseases."
This year marks fourth anniversary of the historic legislation that provides more health care coverage for Americans and is intended to reduce the rate of spending on health care costs. And while there is good reason to be hopeful, much work remains, Christensen said.
She cited discouraging health statistics for South Carolina: People in the Palmetto State, for example, are more likely than others in the United States to rate their health as "fair" or "poor"; diabetes is higher than the national average, and heart disease and stroke rates are increasing.
Yet, there are reasons for hope: Nearly 56,000 South Carolinians have selected a health insurance plan through the federal health insurance exchange; violent crime is showing a decline, and the rate of teen pregnancy has decreased.
"We're grateful for what has been done, but if we want to move forward, we must all raise our voices," said Christensen, noting that the ballot box is a place where "voices" can be recognized.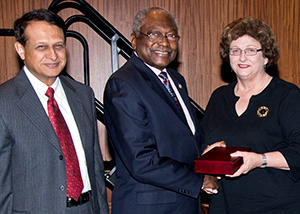 Dr. Donna Richter, shown with Dr. Mahmud Khan, left, and Congressman James E. Clyburn, was the recipient of the Pioneer in Public Health and Health Disparities Research Award.
Christensen, who is serving her last term in Congress in pursuit of the governorship of the Virgin Islands, praised the Arnold School of Public Health for its "impressive body of work" to reduce health disparities and said those involved are "health equity warriors."
She had praise as well for Congressman Clyburn, who has championed the cause of public health and the elimination of health disparities throughout his service in Congress.
"Jim (Clyburn) is the conscience of the U.S. House of Representatives," she said. "He is a leader like no other … there is power in the truth that he speaks."
Calling him a mentor, colleague and friend, Christensen said that Clyburn has "a strong moral compass" that has guided his work.
Clyburn, who represents South Carolina's 6th Congressional District, said that Christensen supported him in his efforts for passage of the Affordable Care Act. "Every day before I went into meetings, I sat down with Dr. Christensen. She was my right hand and my left hand."
The Affordable Care Act, Clyburn said, is the "Civil Rights Act of the 21st century."
"We have got to focus on the disparities that exist in health care, he said. "How can we rest knowing full well that a child born with diabetes would be denied health care for the rest of their life … that women with breast cancer, men with prostate cancer will be kicked off their insurance plans.
"Something is wrong with that. And that is why many of us have spent years to get rid of the problems that have existed for too long," he said.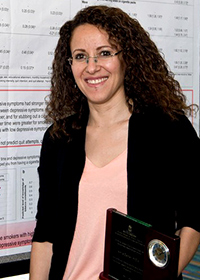 Amira Osman of the Arnold School was recipient of the Student Award in the poster and abstract competition.
One of the most important features of the annual Clyburn Lecture is the Poster Session and Abstracts that highlight health disparities research. The posters presented at the lecture focused on topics as varied as breast cancer, home health care and stroke, healthy lifestyle promotion among African-American women, and more.
Awards for scientific posters included:
 Dr. Dulaney A.Wilson of the Medical University of South Carolina, New Investigator Award ("Socioeconomic and demographic disparities in epilepsy in South Carolina");
Amira Osman of the Arnold School, Student Award ("Depressive symptoms and responses to cigarette pack warning labels among Mexican smokers");
Dr. Alyssa Robillard of the Arnold School's Department of Health Promotion,  Education, and Behavior, Faculty Award ("Cultural Narrative as a Tool in HIV Prevention: Stories of HIV-Positive African-American Women" … see related article, http://sph.sc.edu/news/PublicHealth-Robillard.html).
The lecture also included the presentation of the James E. Clyburn Leadership Awards. For a complete lists of award recipients, visit http://sph.sc.edu/news/2014Clyburn-AwardRecipients.html.