HPEB faculty member to deliver keynote address at Brazil event; PRC and Arnold School students earn recognition
November 4, 2013
Dr. Andrew Kaczynski of the Department of Health Promotion, Education, and Behavior has been selected to deliver the opening keynote address at the ninth Brazilian Congress on Physical Activity and Health. The conference, scheduled Nov. 13 – 16 at the Pontiff Catholic University of Parana in Curitiba, Brazil, has the theme, "Active People, Healthy Cities."
Kaczynski's presentation, titled "Contribution of parks and open spaces in promoting physical activity," will focus on how using an environmental justice approach to improving neighborhoods and parks – and involving citizens in that process – can level the playing field and facilitate greater physical activity and health for residents of all ages.  He also will be a co-facilitator for a working session on Nov. 15.
The presentation will feature Kaczynski's past research conducted in Kansas City, Mo., where he was on the faculty at Kansas State University, as well as the new research projects that he has begun in South Carolina since arriving at USC in January 2012. His most current partnerships are with groups such as Eat Smart Move More South Carolina and LiveWell Greenville. He is working with HPEB doctoral students Gina Besenyi, Morgan Hughey and Stephanie Child.  
In September, Kaczynski was the keynote speaker for the Symposium on Parks, Public Lands, and Public Health, held at the Indiana University Eppley Institute for Parks and Public Lands.
"Just like clean water and sustainable transportation systems, parks are vital components of the green infrastructure of healthy communities. They can provide places for spiritual restoration, stress relief, and social bonding, in addition to potentially offering a myriad of opportunities for active living," he said.  "My talk will focus on the benefits of parks for physical activity promotion and obesity prevention and how we can and should engage residents in the challenging but important process of building healthier communities."
The conference Web site, in Portuguese, is http://www.cbafs.org.br/.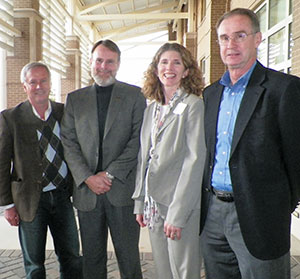 The 20th anniversary of the USC PRC was celebrated Oct. 24. From left are Dr. Larry Durstine, Dr. Tom Chandler, Dr. Sara Wilcox and Dr. Russ Pate.
Sumter County honors PRC
Sumter County presented Dr. Sara Wilcox, director of the Prevention Research Center, with a proclamation recognizing the center's collaboration with Sumter County Active Lifestyles (SCAL) to promote an active community and improve the health of the residents.
The proclamation, presented by Sumter County Administrator Gary Mixon, was made during the 20th anniversary celebration of the PRC on Oct. 24.
The PRC began in 1993 with a five-year grant totaling $2 million from the Centers for Disease Control and Prevention. The USC PRC became one of the nation's first Prevention Research Programs, which now total 37.
In 1999, the PRC developed a collaboration with SCAL, which first was the community advisory board for and lead partner in the USC PRC's community-based participatory research core project, "Environmental and Policy Changes to Promote Physical Activity: A University-Community Partnership." SCAL continues to serve as an advisory board, but also has become Sumter County's leading community-based organization to promote healthy and active lifestyles through policy and environmental supports for physical activity.
Since 1993, the USC PRC has garnered $50 million in funding and grants.
In addition to Wilcox and Mixon, guest speakers included Dr. Tom Chandler, Arnold School dean, and Linda Pekuri, SCAL director.
Students earn recognition
Kara Whitaker, a doctoral student in the Department of Exercise Science, was awarded second place in the Social Sciences category on Oct. 25 at the Carolina Women's Health Research Forum at the USC School of Medicine.
The poster, "Associations of Depressive Symptoms, Sedentary Behavior, and Dietary Intake," was presented originally at the annual conference in May of the American College of Sports Medicine. Others who contributed to the research were Dr. Sara Wilcox , Dr. Patricia Sharpe and Brent Hutto.
Visit http://whrf.med.sc.edu/index.asp  to learn more about the research forum and to read research abstracts.
Alexi McHugh, an undergraduate public health major, was confirmed as the Secretary of Health and Wellness under the Executive Cabinet of USC's Student Government. He will serve as the student representative charged with representing students' needs on campus and helping to answer questions about students' health.
A junior in South Carolina Honors College, McHugh is a guest blogger for The Garnethealthanista: www.garnethealthanista.com.